Amy Coachman
Amy Coachman is the proud wife of ESPN/ Sportscenter Anchor, Jonathan Coachman, a.k.a 'The Coach."
Her 44-year-old husband is best known as a former WWE wrestling commentator who spent nearly a decade as a commentator, interviewer, and occasional wrestler.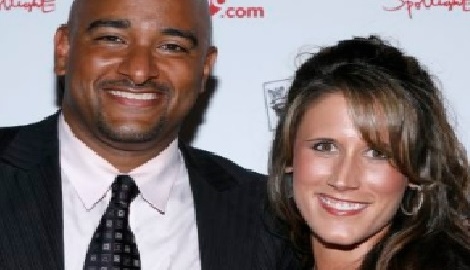 The Kansas native was born August 12, 1972. He played college basketball while attending McPherson college. He had previously won two state basketball championships at McPherson High School in McPherson, Kansas.
He embarked on an announcing career in professional wrestling in the late 90's having previously served as sports reporter/anchor at KAKE in Wichita, Kansas. In 2008, Coachman's contract with the WWE, expired after deciding not to renew.
Soon after he left the WWE, he joined ESPN. In 2009, Coachman signed with ESPN as anchor of SportsCenter. In 2012, he became the host of Coach & Company, a nationally syndicated radio program that airs on ESPN Radio.
In 2015 he began presenting highlights of WWE's best moments of the week on ESPN, and having weekly sitdown interviews with WWE wrestlers on SportsCenter.
Aside from WWE and ESPN assignments, Coachman called various sports events on College Sports Television –including football, basketball, baseball and softball.
He is also an occasional guest and fill-in on the ESPN show First Take.
'The Coach' has been happily married to his lovely wife, Amy for many years. Meet her below.
Gorgeous Amy Coachman is an Iowa native who studied at Pella Community High School.
She went on to attend Iowa State University where she was a collegiate athlete. She holds a Bachelor of Science degree and graduated in 2005 with honors at 3.7 GPA.
She also became a student ambassador for ISU, receiving an academic scholarship that is given to women who show excellence in the sciences field.
Accoridng to her LinkedIn, she did hands on training with a variety of special populations through her work experiences at Iowa State University as well as in North Carolina that included patients with insulin pumps, COPD, pregnancy, and high risk Cardiovascular patients.
She who is also a personal trainer and is CPR certified –is currently an Immunotherapy Sales Specialist
for Valeant Pharmaceuticals, where she has been working since 2015. She's also worked at Braintree Labs and Dendreon.
Is not clear how the couple came to be or when exactly they tied the knot, however, Amy and her hubby are the proud parents of two children. Amy Coachman first gave birth to a daughter, Kayana Coachman. The couple welcomed a boy, JJ Coachman in 2009.