Sandy Harrell
Sandy Harrell is the long time wife of TV personality and legendary NFL player, Michael Irvin. The two have been married for decades despite her husband's numerous scandals.
Sandy's NFL Hall of Famer husband was born March 5, 1966. The Florida native attended the University of Miami, where he won the 1987 National Championship.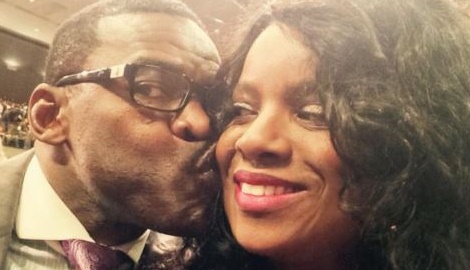 During his NFL career, he recorded over 1,000 receiving yards in five straight seasons from 1991 to 1995 and helped the Cowboys win three Super Bowl Championships.
The former Dallas Cowboy's wide receiver, has been happily married for the last 27-years, to wife, Sandy Harrell.
The gorgeous Sandy Harrell and Michael tied the knot on June 23rd, 1990. Since their nuptials the couple has expanded the family. She is the proud mother of the couple's three children: daughter Chelsea and two sons Michael Jr. and Elijah.
Sandy Herrell is also a stepmother to Michael' s daughter, Myesha Beyonca, born from a previous relationship with his former girlfriend Felicia Walker.
According to social media, daughter Chelsea is a student at Howard University, while sons Michael and Elijah Irvin studied at Prestonwood Christian Academy.
Harrell is certainly a strong woman, the former NFL wag, has stuck to Irvin through highs and lows. In 1996, Irvin was arrested for cocaine possession and reports say he was "lying on the floor covered in cocaine with multiple strippers performing sexual acts upon him." There were even reports that when Irvin was under the influence of cocaine he "sexually assaulted a Dallas Cheerleader, Nina Shahravan, and, with a gun to her head, videotaped the interaction." Even after retiring from the NFL, Irvin had trouble shaking his drug problems. Irvin was suspended from his ESPN analyst job in 2005 for minor drug possession charges.
Happier times or highlights for the couple include the 2008 Hall of fame ceremony in which her man was honored. Sandy and the entire family attended the event.
Back in 2014 it was revealed by Irvin himself, former NFL wide receiver turned analyst Chris Carter –had said to Sandy Harrell right around the time the two were in the Pro Bowl together:
"Michael would never come out of this problem until you leave him. Till you leave him."
Referring to her husband's struggles with substance abuse. However, the couple's connection has surpassed all the negativity until now.
The last straw for Sandy could be her hubby's recent sexual scandal. Reports say he is currently being investigated for allegedly sexually assaulting a woman in a Florida hotel last week.
Will Sandy Herrell keep on supporting her man? It remains to be seen.