John Franklin III
John Franklin III is the proud boyfriend of a college softball player, Haley Fagan –currently a shortstop for the Auburn Tigers team.
He and his girl are both student-athletes currently attending Auburn University. While Hayley is kicking but in softball, John Franklin III is doing his thing as a Wide Receiver for the Auburn Tigers.
John's girl is one of six children born to Kevin and Nancy Fagan. Her siblings include two brothers, Cole and Jack, and three sisters, Kasey, Sami and Cameron.
Her father is a former NFL player who played for the San Francisco 49ers from 1987-1993. Two of her sisters have also played collegiate softball.
While in high school at Dunnellon, Haley Fagan led the team to state championships in 2009 and 2010. In 2013, she was named Sun Belt Conference Freshman of the Year while at South Alabama. She earned NFCA First-Team All-Region honors and hit .352 with a team-best 11 home runs and 51 RBI.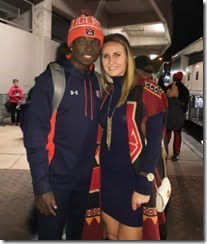 In 2014 she redshirted during the 2014 season for the Tigers. During her sophomore season in 2015, she started all 67 games at either shortstop or third base. She also set a new career-high six RBI in a game against Chattanooga (2/8) and had career-highs with four runs and four hits at No. 20 Missouri (3/27).
During her junior season she saw action in 14 games and started 12 contests, racked up nine hits, including four doubles and one home run and made season debut in the SEC Tournament and started as the designated hitter against Alabama (5/13).
During her senior season, Fagan has started in all 21 games at shortstop. Haley is currently a senior attending the College of Liberal Arts. Like Haley, John Franklin III is also enrolled at the Liberal Arts.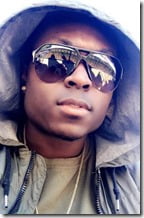 He was born September 21 to parents John Franklin Jr. and Kealer Franklin and has one brother Jarrell, and one sister, Tiffany.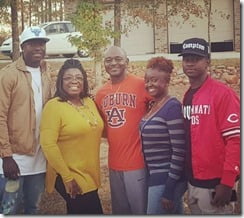 The 6-1 / 183 player is an Ft. Lauderdale, Fla. native who attended South Plantation high school.
Following high school, he attended East Mississippi CC –where he was described as a big-time athlete who can impact every aspect of the offense. He was a JUCO All-American, passed for 733 yards (64-110) and seven scores and rushed for 451 yards and nine TD.
In 2013 he redshirted at Florida State, winning offensive scout team player of the year honors. The following season in 2014, had little action.
He made the full-time move to a receiver when Auburn returned to practice from spring break earlier this month.
Franklin has seemingly embraced the position change after spending his entire career at quarterback, first as a backup at FSU, then while splitting time at East Mississippi Community College in 2015 before serving as the coach's backup last season.
The redshirt senior spent his spring break working out in South Florida and releasing a series of hype videos showcasing drills he worked on to improve his skillset at the position.
John Franklin III is also active on social media where he reveals 'God, family and football' is important for him. His girl is also into religion, so is clear these two have much in common. They both have big followings on their respective accounts.