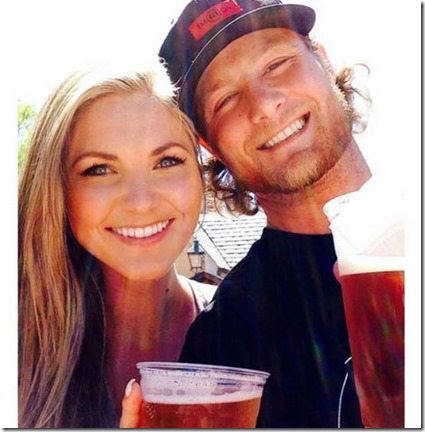 Meet Amy Crawford, the girlfriend of 24-year-old MLB pitcher for the Pittsburgh Pirates, Gerrit Alan Cole. Amy and her beau must be in celebration mode right now and they should! Her man fanned eight over 7 strong innings in last night's win over the Braves.
Cole was so focused on recording 17 consecutive outs, he didn't glance at the out-of-town scoreboard.
Cole insisted he didn't know his win over Atlanta had clinched a playoff spot for Pittsburgh until he walked into the clubhouse and saw the lockers covered in plastic.
The surging Pirates earned their second straight trip to the post-season with a 3-2 victory over the free-falling Braves on Tuesday night.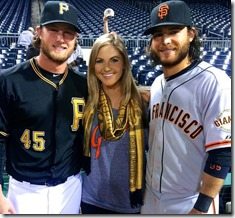 Amy is forever linked to the sport, aside of being a former UCLA softball player herself, the gorgeous career coach is one of the three younger sisters of San Francisco Giants shortstop, Brandon Crawford. The whole Crawford kids clan includes:Brandon, Amy, Kaitlin and last but not least Jenna Crawford.
Her family lived in Menlo Park before they moved to Pleasanton. Above we can see a picture with both her man and brother.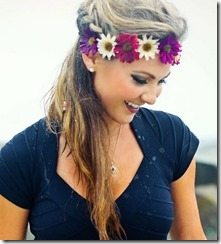 According to her LinkedIn Amy is a Career Coach at Athletes to Business in the Orange County, California Area; and has been since November 2013.
Amy graduated in 2011 with a BA, Sociology from UCLA. In she received the 2010 National World Champions for NCAA Division 1 Softball and in 2009 PAC 10 Champions. She previously worked Spigit as a Marketing Intern in the Summer 2009 and 2010.
Her summary says about her: "Being a former student-athlete myself, I know the difficulties we face taking the uniform off for the last time and moving on to the working world. As an Athletes to Business Career Coach, I help make the transition easier and less stressful. I'll help you craft a powerful resume, give you tips on effective interviewing and most importantly potentially arrange interviews for you with World Class companies. Best of all, all the help I provide is free.
Sound like her skills can be put for good use by her man?
Athletes to Business partners with world class companies passionate about finding the "Best and Most Diverse" talent, and believe that student athletes fit that mold perfectly.
The unique business model allows us behind the highly-protective walls of College Athletic Departments. There, we help the school prepare their student athletes for "Life After Sports" and connect those interested and qualified with our corporate partners.
In essence, we become a companies "Eyes and Ears" inside the athletic department, branding your company, and sharing your career opportunities with top performing individuals that you rarely gain access to through traditional recruiting methods.
We've become a "Secret Weapon" to companies searching for innovative new ways to source the best talent.
Amy is very active on her Twitter account, she often posts photos of her with her man and her family, she is definitely mom material as she seems to have fun with her nieces. She is aunt to her brothers two little girls, Braylyn Ann and Jaydyn.
Find her here.