NBA shooting guard Austin Reaves' girlfriend is Jenna Barber! 6'5 Reaves, originally from Newark, Arkansas, has been playing with the Los Angeles Lakers since August 2021. Before that, Austin Reaves played college basketball at Wichita State and later with the Sooners at the University of Oklahoma.
Austin Reaves Parents
6'5 Austin Tyler Reaves was born on May 29, 1998, in Newark, Arkansas; He is one of the children born to collegiate basketball players Nicole Wilkett and Brian Reaves.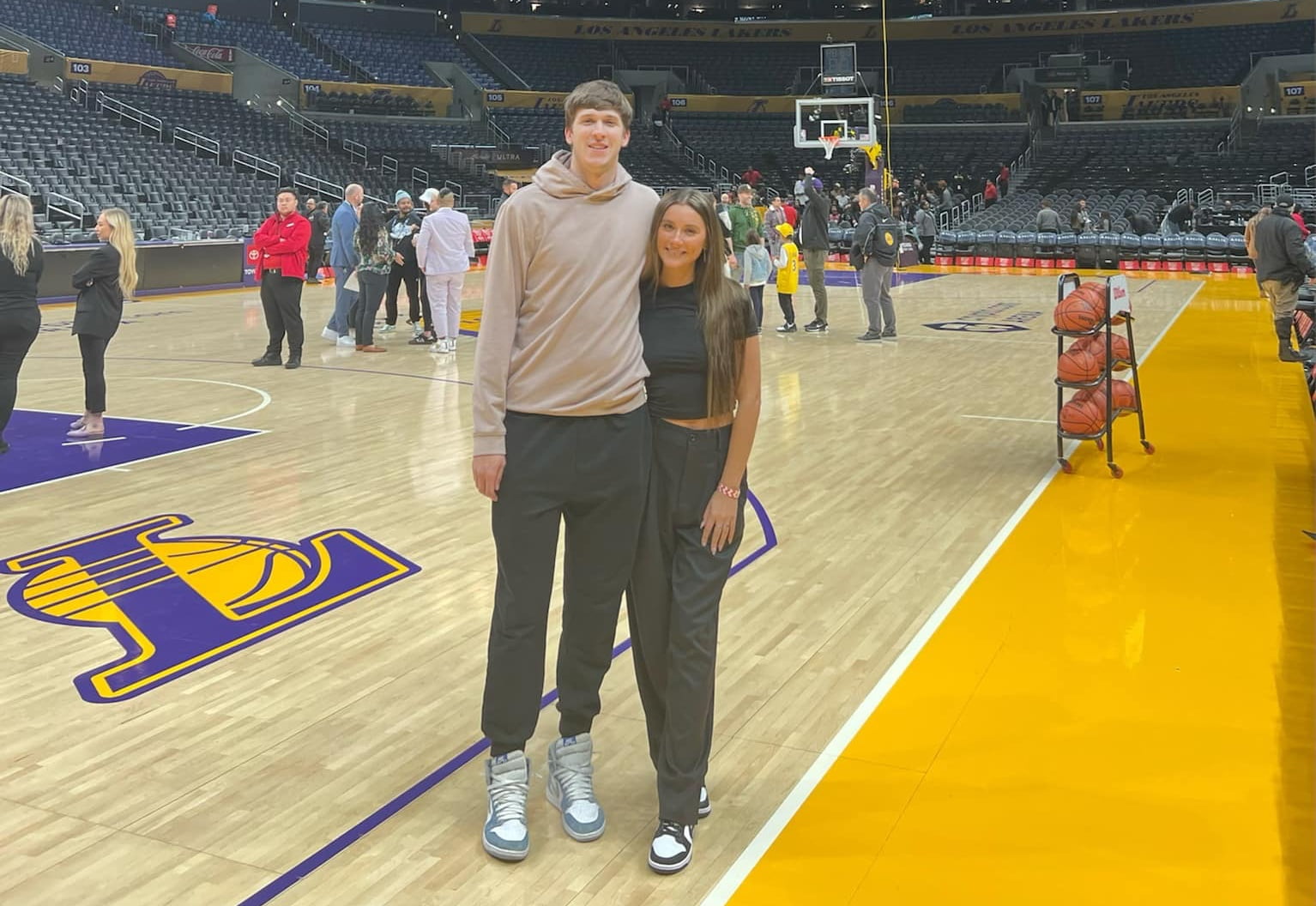 Brian Reaves
Austin's dad, 6'1 Brian Joseph Reaves, born in September 1970, played point guard at Arkansas State; he is tied for third on ASU's career assists chart. He and his second wife, sonographer Amanda Dugger Reaves (m. July 7, 2011), who has a daughter named Annabelle Reece Dobbins from a previous relationship.
Nicole Wilkett
Austin Reaves' mom Nicole Renee Wilkett, born in July 1970, was an all-conference forward and averaged over 20 points per game in her senior year at Wichita State.
Austin Reaves Brother
Austin Reaves and his older brother Spencer Reaves created the Reaves Brothers Basketball Camps; according to their website, the camp is "dedicated to teaching the game the right way and helping young players achieve their goals."
Spencer Reaves
Spencer Allen Reaves, born on December 23, 1995, was a shooting guard at the University of Central Missouri and attended North Greenville University.
Spencer Reaves, who is currently a basketball player at One Motive Sports, is happily married to his wife, Kaci Mack Reaves (m. June 29, 2022).
Austin Reaves Wichita State
Forrest City High School graduate Austin Reaves committed to play at Wichita State on June 20, 2016. He chose Wichita State over offers from South Dakota and Arkansas State.
During his freshman year, Austin Reaves averaged 4.1 points, 1.8 rebounds, and 1.1 assists in 11.8 minutes. He also underwent surgery to repair a torn labrum on his left shoulder.
Reaves averaged 8.1 points, 3.1 rebounds, and 2.0 assists in 21.5 minutes per game his sophomore year at Wichita State. He transferred to Oklahoma after his sophomore year.
Austin Reaves Oklahoma Sooners
After transferring, Austin had to sit his first year with the Sooners; he averaged 14.7 points, 5.3 rebounds, 3.0 assists, and 1.0 steals in 31 games during the 2019-20 season.
In his senior year, Austin averaged 8.3 points per game, 5.5 rebounds, 4.6 assists, and 0.9 steals.
Austin Reaves NBA Career
August 3, 2021: Austin Reaves signed a two-way contract with the Los Angeles Lakers after going undrafted.
September 27, 2021: Reaves signed a standard contract with the Lakers.
October 22, 2019: He debuted with the Los Angeles Lakers against the Phoenix Suns.
March 19, 2023: Reaves recorded a career-high 35 points with six rebounds and six assists against the Orlando Suns.
April 16, 2023: Made his first Playoff appearance against the Memphis Grizzlies, recording 23 points, three rebounds, and four assists.
Austin Reaves Contract and Salary
On September 27, 2021, Austin Reaves signed a two-year, $2.49 million contract with the Los Angeles Lakers. The deal included a $2,48 million guaranteed and an annual salary of $1,244,388.
Austin Reaves Endorsements
On April 28, 2022, it was announced Austin Reaves signed a shoe deal with Rigorer, the Chinese sports apparel brand that will release Reaves' shoe AR1 in May 2023.
Austin Reaves Girlfriend
Austin Reaves has been dating Jenna Barber since 2020; they met at Cedar Ridge High School in Newark, Arkansas.
Jenna Barber
Jenna H. Barber was born on December 21, 2000, in Newark, Arkansas; she is one of the children of Brian and Sandra Barber. Jenna's dad, is a pant supervisor at Entergy; her momma worked at Ascent/ Batesville Child and Youth Pediatric Day Clinic.
Jenna has two sisters, Jaden and Jordan Barber, who studied Communication Sciences and Disorders at Arkansas State University and married her husband, Keaton Wheeler, on November 19, 2022.
Jenna Barber attended Arkansas Community College and the University of Arkansas, from where she graduated in 2022. Jenna has been working at Newark Rx since August 2019.