Meet Barbara Marshall
Barbara Marshall is the proud NFL mom of linebacker, Brandon Markeith Marshall.
Brandon Markieth Marshall was born on Sept 10, 1989 in Las Vegas.
Marshall played linebacker, running back and tight end, earning first-team All-Sunset Conference honors during his career at Cimarron-Memorial High School in Las Vegas. He was named second-team All-State as a linebacker and finished his career with 68 tackles, 13 tsacks, 57 quarterback pressures, four fumble recoveries and scored 10 touchdowns as a running back.
Marshall was a four-year starter at Nevada, where he totaled 259 tackles (145 solo), 40 tackles for a loss, six sacks, three interceptions, seven fumble recoveries and three forced fumbles. He made 102 tackles with 10 tackles for a loss as a senior. He earned second-team All-WAC honors from Phil Steele Publications.
He was selected by the Jacksonville Jaguars in the fifth round (142nd overall) of the 2012 NFL Draft.
Marshall has been one of the NFL's best coverage linebackers, but in 2015 he was said to had become a complete linebacker and a more vocal teammate.
According to his player profile Brandon Marshall
• Joined the Broncos as a practice-squad signee on Sept. 2, 2013.
• Totaled 259 career tackles, including 40 stops for a loss, as a four-year starter at the University of Nevada.
• Saw action in five games for the Jaguars as a rookie in 2012 and contributed three spe- cial-teams tackles for the club.
• Spent the majority of the 2013 season on the Broncos' practice squad before being elevated to the active roster and appearing in four games (1 reg. season, 3 postseason).
• Led the Broncos with 110 tackles (88 solo) in 2014 with that total ranking second in the NFL among first-year defensive starters.
• A fourth-year inside linebacker who played 20 career regular-season games (13 starts) and four playoff contests (1 start) during his first three NFL seasons with Jacksonville (2012) and Denver (2013-14).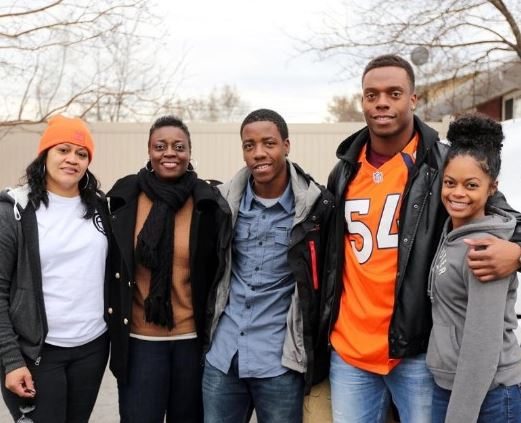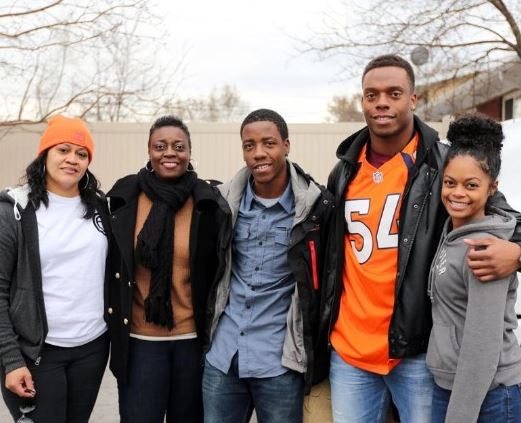 When Barbara Marshall gets asked, "What does it feel like to have a son that plays in the NFL?" The lovely mom, answered "It feels Amazing!"  Four years later, it still feels unreal."
She wrote for a Broncos blog saying "When I turn on the television, it's so exciting to see my son, Brandon Marshall, Denver Broncos ILB, on the field; making such a big impact each time he plays."
Barbara sure enjoys of the perks of having a player son, she reveals she enjoys going to the games and  cant believe when people approach her and even ask for photos and autographs. She is also the mother of Brandon's brother, Marcus.