Shianette Tolbert
Shianette Tolbert is the loving and beautiful NFL Wag married to Mike Tolbert, the NFL fullback player for the Carolina Panthers. Tolbert also played with the San Diego Chargers and for Coastal Carolina University. Ready to Meet Tolbert's pretty lady Shianette Tolbert? I think you are going to love her!!!
Shianette Tolbert's NFL stud Mike was born in Centerville, Ohio on November 23, 1985. He attended Douglasville High School and Coastal Carolina University.
5'9" Tolbert signed with the Chargers as an undrafted free agent in April, 2008, that season he played 13 games rushed 37 yards and 13 carries; by the following season he rushed 148 yards one touchdown, three receiving touchdowns and caught 17 passes for 192 yards.
In 2010, his final season with the Chargers he broker out 182 carries for 735 yards and 11 touchdowns. Tolbert and wife Shianette packed their bags and headed to North Carolina in March, 2012 when Mike signed a four-year deal for $10M with the Carolina Panthers.
In 2013, Tolbert a Panthers fan favorite became known as the Toldozer, he played at the 2013 Pro Bowl in Hawaii and was named to the All-Pro Team that year.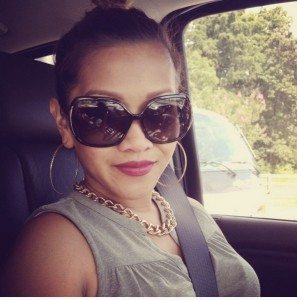 Mike Tolbert's wife Shianette Tolbert, 28, born and raised in sunny California to Philippino parents Maria and Fredan Fernandez, also proud parents of Shianette's brother Filray.
Shianette Tolbert married Mike in 2010, she gave birth to their daughter Mikaela Rae Tolbert on October 3rd, 2011, little Mikaela came into the world at 10:00 am, at 36 weeks she was slightly premature. Shianette and Mike announced they were expecting again early in 2013, their son Major was born Thursday, November 14, 2013.
Shianette Tolbert is very close friends with other Carolina Panthers WAGs as you can see in the photos here, there Panthers ladies really know how to have fun together and support their men at the same time!
You can find Shianette Tolbert on Facebook here