Beulah Guice
Beulah Guice is the proud mother of LSU's running back Derrius Guice –who was recently asked if he is gay by an NFL team and whose mother was offended.
Beulah's son revealed one NFL team asked him last week if he likes men. Moments later, the 20-year-old was asked if his mother, Beulah Guice is a prostitute.
The five-star prospect from Baton Rouge played in every game as a true freshman in 2015, averaging 8.5 yards on 51 carries and scoring three times. He lead the SEC in rushing (1,387 yards) and rushing touchdowns for running backs (15) despite starting just six of 12 games played. The first-team All-SEC pick set a school record with 285 yards against Texas A&M and ranked fifth in the country with 7.6 yards per attempt on the year. He was named MVP of the Citrus Bowl with 138 yards and a score in the win over Louisville.
During the 2017 season, he managed to start 11 of 12 games played, receiving second-team All-SEC notice after rushing for 1,251 yards and 11 touchdowns on 237 carries.
There's no doubt Derrius' biggest fan and source of strength is his mother, Beulah Guice. The soon-to-be NFL player was raised by his mother in a poor community in Baton Rouge, Louisiana. Mrs. Guice became a widow after Derrius' father was killed in 2003. She had met the late Guice in her teens and was in her early 20's when he was shot multiple while at a Denny's.
At the time she was left with two sons, seven-year-old Derrius and eight-year-old, Derrick.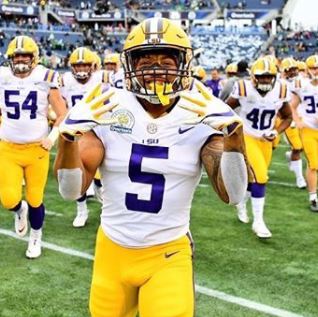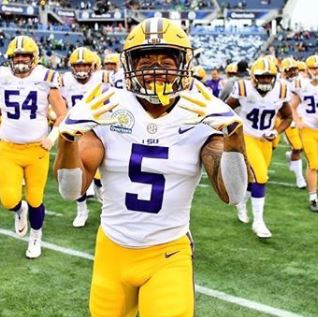 Beulah Guice, spent most of her time working various jobs to raise her two boys –including working long hours at Wal-Mart. She later became re-married and welcomed a third child, another son born a few years ago. Her youngest child is named C.J. and is 6-years-old.
Her oldest son Derrick, has been in and out of jail according to interviews given by Derrius. He was apparently arrested in the fall for a slew of charges, including attempted second-degree murder.
Derrius has always stated he plays for his 'murdered father and his hard-working mom.'
Check out her son on Instagram here.