Karen Vieth Knight
Karen Vieth Knight is the second wife of former college basketball coach turned ESPN analyst, Bob Knight. Her husband has been described as one of college basketball's most successful and innovative coaches; however, there have been controversies surrounding his career; some of those were in ESPN's documentary "The Last Days of Knight."
Bobby Knight, born  Robert Montgomery Knight on October 25, 1940, in Ohio became known as "The General;" he won 902 NCAA Division I men's college basketball games, the most all-time at the time of his retirement.
Knight emerged as a baseball, basketball and football standout at Orrville High School, where he also excelled academically. Graduating eighth in a class of 80, he never received lower than a B. By his senior year, he had grown to 6-foot-4 and 180 pounds and earned a scholarship to Ohio State in 1958.
According to ESPN, after graduating from Ohio State in 1962 with a degree in history and government, he accepted an assistant coaching position at Cuyahoga Falls High School in Ohio, where he also taught history. A year later, he entered the Army, assigned to West Point as an assistant to head basketball coach Tates Locke. Promoted to head coach in 1965, becoming the youngest Division I head coach in the country at age 24.
Knight also coached the U.S. to gold medals at the 1984 Olympics and the 1979 Pan-American Games.
He is best known as the head coach of the Indiana Hoosiers from 1971 to 2000, guiding them to three national championships – in 1976, 1981 and 1987.
Bob earned a reputation for being rude, defiant and hostile. Indiana fired him in 2000.
After leaving Indiana he coached at Texas Tech from 2001 until 2008. Following his 2008 retirement, he joined ESPN as a men's college basketball studio analyst during Championship Week and for coverage of the NCAA Tournament.
Personal Life
Bob and his wife, Karen Vieth have been married since 1988. His first wife was Nancy Falk from 1963 until their divorce in 1986. From his first marriage, he is the father of sons, Tim and Pat.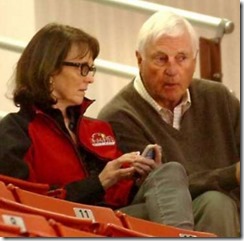 Karen and her husband have much in common. She is a former Oklahoma girls high school coach. The former Karen Vieth Edgar worked as a coach at Lomega High School.
At the time of their wedding in 1988, Knight was 47 and Karen was 41-years-old. They tied the knot at the Indiana Interchurch Center in Indianapolis on May 23. It was the second marriage for both.
According to the Chicago Tribune, Karen Vieth Knight resigned for personal reasons in 1987, after coaching Lomega to Oklahoma State Championships in 1982, 1983 and 1987.