Meet Przemysław Buta
Przemysław Buta is the boyfriend of Polish MMA fighter, Joanna Jedrzejczyk, the blue-eyed stunner, is an impressive fighter, who is in addition, the former UFC Women's Strawweight Champion. The blue-eyed is third European champion in UFC history.
Joanna told UFC.com she started fighting for herself because she wanted to to be in shape. She did Muay Thai for 10-years and became a pro in 2012. Joanna was instantly put on the radar following her crushing knockout of inaugural strawweight champion Carla Esparza at UFC 185.
She won more than 60 matches and was a five-time amateur world champion and four-time European champion, before getting into MMA.Her Muay Thai achievements, include WKN World Champion, J Girls Champion, WBKF Champion, WKF European Champion, WMC Champion.
Jedrzejczyk made her professional debut in May 2012, defeating Sylwia Juskiewicz by unanimous decision at Kolobrzeg, Poland. She states she set out to be the best female fighter in her division and with no losses under her belt, we'd say she's doing a pretty good job at it.
Meet Przemysław!
Born September 8, 1989; Przemysław Buta is also an athlete and a Polish native. Przemysław Buta is a  football player who plays in the Midfielder, Midfield allrounder and striker positions. According to a profile under his name, he's played for the KS Huragan Morąg Club.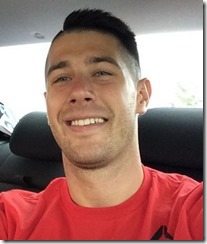 Przemysław Buta Studied Physical Education at Olsztyńska Szkoła Wyższa im. J. Rusieckiego w Olsztynie. He grew up in
Morąg, Olsztyn, Poland where he currently resides. He has one sister named, Martyna Buta.
It is not clear how long Przemysław Buta and Joanna have been together. She acknowledged him earlier this year saying during a press conference after her big win:
"I still cannot believe that I'm the first European-based champion. After every fight, I'm so happy on the inside and the outside, but after this one, I'm more happy on the inside for my parents, for my boyfriend and for my country — for everyone. I'm going to take my belt back to Europe and show everyone. I'm just so happy."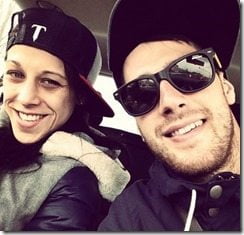 Joanna  & Przemysław who have been dating for almost 8 years became engaged in October, 2017.
You can find Przemysław Buta on Instagram here.