Meet Gabriella Lenzi, she is a well-known Brazilian model, a beautiful woman who Fab Wags welcome her as our newest soccer wag, after all she is dating Neymar, one of Barcelona's top players.
We have been paying special attention to Neymar's personal life, long ago he dated Carolina Dantas, 20, who is the mother of his adorable son David Lucca da Silva. He also dated Brazilian actress Bruna Marquezine until this February and now the charismatic striker is dating this pretty model named Gabriella Lenzi also spelled Gabriela Lenzi.
Rumors about Neymar dating Lenzi started early last month, and last night Gabriella joined fellow Barcelona Wags, Antonella Roccuzzo (Messi), Daniella Semaan (Fabregas), Yolanda Cardona (Victor Valdes), and Nuria Cunillera ( Xavi's partner) –> click on the links on each name to learn more about them.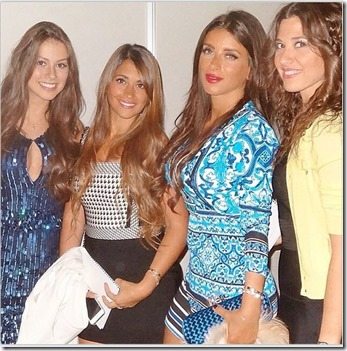 So.. what do we need to know about her? Check out her bio.
Gabriella Lenzi Biography.-
Name: Gabriella Lenzi
Age: 20
Place of Birth: Balneario Camboriu, Santa Catarina, Brazil.
Languages: Portuguese, Spanish.
Occupation: Fashion Student/ Model.
College: Studies fashion at Fundação Armanda Alvares Penteado (FAAP) in Sao Paulo, Brazil.
Boyfriend: Neymar (April- 2014- )
Height: 1.80/ 5'9"
Bust: 31
Waist: 22
Hips: 34.
Model Agency: DF Model Management in Joinville, Santa Catarina, Brazil.
Social Media: Facebook, Twitter, Instagram, YouTube