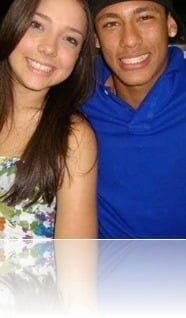 As Barcelona FC prepares to welcome Brizilian star Neymar into their squad the world awaits the arrival of a new Barca WAG into their city, Neymar's girlfriend and pretty baby mama is Carolina Dantas
21-year-old Brazilian player Neymar whose full name is Neymar DaSilva Santos Junior has become famous not just because of his flamboyant hairstyles but for his outstanding performance in  the field. The young forward has been laying with Brazil's soccer team Santos since 2009, having spotted him when he was just 13 and signing him into their squad in 2003, reason for that was that Santos didn't allowed Real Madrid to signed him in even thought Neymar passed the trial in 2004.
It is until this year that Neymar's dreams of joining a Spanish team will come true as Barcelona FC came to an agreement on a five-year contract with Santos on May 27th, 2013.
Ok, now that we know a few things about Neymar what is there about his girlfriend Carolina?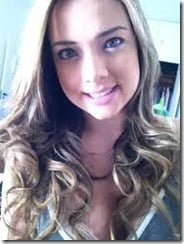 Pretty Rainha Carolina Nogueira Dantas, 19, a stunning Brazilian blonde beauty with gorgeous blue eyes from Santos, Brazil has been dating Neymar for a couple of years. She gave birth to her and Neymar's adorable son David Lucca Da Silva Santos on August 28th, 2011 Caro Dantas born on October 21, 1993, she graduated in 2011 from the Colegio Adventista de Santos and is currently attending at the AEON Vestibulares.
According to media Carolina's identity has been mistaken repeatedly with Fernanda Barroso, who might or might not have dated Neymar some time ago, pictures of her pregnant on Facebook were also said to be with Neymar's baby, but the truth is that Fernanda is dating someone else who is the father of her baby.
It seems that Carolina Dantas and her baby daddy are no longer together as he has been seen with Brazilian actress Bruna Marquezine.
Follow Carolina Dantas on Twitter here