Meet Brittany Gano
Brittany Gano is the wife of NFL player, Graham Gano. Brittany Gano must be one proud NFL wife.
Her hubby went undrafted coming out of Florida State, and bounced around before signing with Washington in 2009. He made his debut with only three weeks left in the season, but it was enough to make him the starting kicker heading into 2010.
The following year wasn't a good one for the player, in 2011 he missed ten of his 47 field goal attempts, and had five kicks blocked during the season. Gano was cut after the season, and went unsigned the following summer. He joined the Panthers in the middle of the 2012 season, replacing Justin Medlock.
Brittany Gano is certainly one of those supportive, caring NFL wags. She's been there for her husband during the good and the bad. Like the time she sent him a text to make him feel better for his bad day at work. The thing is, for an NFL star having a bad day gets a little more complicated since, it means disappointing hundreds of fans. The blonde however, made sure to let him know she was there for him.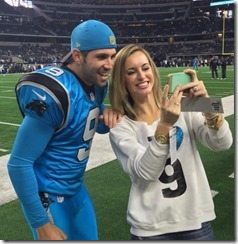 Brittany Gano met her man while attending college. They both attended Florida State, with Graham majoring in criminology. She is the mother of the couple's two children. She gave birth to two sons. Her first born is named Bryson –who was born in 2011. Mrs. Gano, her husband and Bryson welcomed the news addition to the family, another baby boy, in early 2014.
Brittany Gano gave birth to second baby Gano right before he signed his new $12 MILLION contract.
The young mother of two Brittany Gano, is the only girl at home, but that doesn't mean, she doesn't have fun with her boys. Judging from their social media photos, she can also play rough, like when she and her hubby have some fun at the range!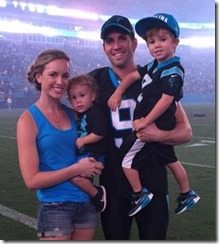 Brittany Gano was born, Brittany Osmon. According to her Facebook page, she is originally from San Diego, California. It looks like this girl traded sunny Cali for love huh!
Brittany Gano also makes sure to care for the family's dog.