Constance Love
Constance Love, this NFL WAG is the beautiful wife of Kyle Love the defensive tackle for the Carolina Panthers, he also played with the Jacksonville Jaguars, The Kansas City Chiefs and the New England Patriots the team that selected him in the NFL Draft and who released him as month after he was diagnosed with Type II Diabetes. Now Patriots who is going to the Super Bowl 50??
Constance Love's NFL stud Kyle Love was born Alexander Kyle Love to U.S Colonel Anthony and Mrs. Miriam Love in North Korea where his father an officer in the United States Army was stationed at. Love attended North Clayton High School in Georgia where he was named the 2003 Offensive Lineman of the year and again in 2004.
After High School Love attended Mississippi State University where he continued to excel in football and where he graduated with a degree in fitness management in 2008.
Constance's hubby signed with the New England Patriots as an undrafted free agent in 2010; he played 9 games recorded and seven tackles and one sack. He played all 16 games the following season finishing with 33 tackles and three sacks. Love played 16 games in the 2012 season finishing with 25 tackles and 1.5 sacks. Kylo Love was diagnosed with Type II diabetes in April, 2013, the Patriots released him on May 15, 2013.
He signed with the Jacksonville Jaguars a day after his released, and was released on September 1, 2013. Love signed with the Kansas City Chiefs on November 19, 2013 but he was released less than a month later. By December 23, 2013 ten days after Kansas released him, Kyle returned to Jacksonville and back to Kansas on May 19, 2014. Finally on December 15, 2014 Love found stability and support in Carolina where the panthers welcomed him and wife Constance with open arms.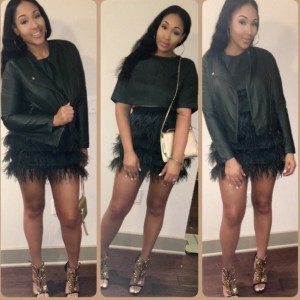 Constance Love, was born Constance Walker she attended Ole miss before transferring to Mississippi State University, she and Kyle were college sweethearts. They dated for over three years before they got married on July 16, 2011.
Constance Love gave birth to her handsome son Ashton Cole Kingston in December, 2013, then came their two little princesses Ava Celeste Kylee born in May, 2014 and Alivia Cruz Kyler in June, 2014.
As you can see Constance Love is one beautiful Panthers Wags, she is close friends with most of them, there she is having a great girls time with Brat Norman's wife Lexi, Amber Williams (Daryl Williams), Cierra (Tre Boston) and Krystle Ginn wife Of Ted Ginn Jr.
Mrs. Love looks lovely as usual, it was amazing meeting her..