Annabel Bowlen
Meet Annabel Bowlen; is the first lady of Denver Broncos, after all, she is the loving and beautiful wife of Mr. Pat Bowlen the owner of the Broncos, Would you like us to tell you  Mrs. Bowlen's Biography?
No doubt, you all know the story of Annabel Bowlen's husband, right? Let's sum it up!
Name: Patrick Dennis Bowlen.
Date  & Place of Birth: February 18, 1944, in Prairie du Chien.
Parents: Paul Dennis Bowlen &  Arvella Woods Bowlen.
Siblings: John, Bill, and Marybeth Bowlen
Education: He first attended Campion Jesuit Catholic High School; subsequently, went to the University of Oklahoma (Degree in Business, in 1965, the degree in Law in 1968).
Denver Broncos Owner since 1984.
AFL's Colorado Crush:  Co-owner alongside John Elway and Stan Kroenke.
Wife: Annabel Bowlen
Children: 5
Now let's meet Mrs. Bowlen.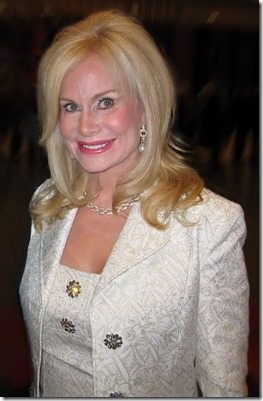 The first thing you need to know is that Joan Annabel Bowlen was born Annabel Spencer in Edmonton, Canada; the daughter of a World War II pilot and Joan Spencer a retire British secretary.  Annabel's family is related to the late Princess Diana's family. Mrs. Bowlen has one brother Richard Spencer, President at Spencer Environmental Management  Services,  as a matter of fact, he established it in 1984.
Mrs. Bowlen has one brother Richard Spencer, who is the President at Spencer Environmental Management  Services, established in 1984.
Furthermore, Annabel Bowlen graduated from the University of Alberta with a degree in physical education and education. Prior to moving to the U.S Annabel Bowlen worked in Canada as a teacher and a figure skating trainer.
She met her husband Pat while he worked as an attorney in Edmonton. Together they have 5 children, John, Patrick, Brittany, Annabel, and Christianna.
Nowadays, Mrs. Bowlen is the Founder & President Emeritus of the "Cherish the Children Guild" the charitable arm of the Beacon Youth & Family Center.
On June 27, 2018, Annabel revealed she has been diagnosed with Alzheimer's; her husband was diagnosed with the brain degenerative disease almost 4 years ago.