Katie Shinkle
Meet pretty Katie Shinkle, she is the lovely girlfriend of 'newby' NBA player Cameron Payne. It was a day for the books for the 20-year-old guard who got selected by the Oklahoma City Thunder with the 14th pick in the 2015 NBA Draft.
The moment is clearly surreal for anybody but for Cameron, it was certainly even more special because he got to share it with his pretty gal.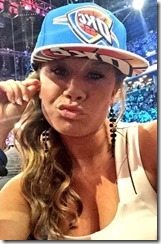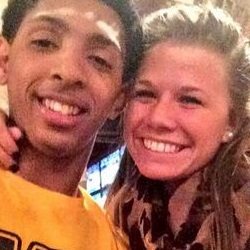 After Cameron got called, Katie –who was clearly overwhelmed –was among the first people to congratulate him, giving him a kiss and a hug.
Katie's guy is a 6-foot-2 point from Murray State. Payne was extremely productive in his two seasons in Murray; after his first season, Payne was named the Ohio Valley Conference's Freshman of the Year. He also made first-team all-conference. Payne is certainly no stranger to winning.
At the end of his sophomore campaign, he again garnered first-team all-OVC honors. This time he was the conference's player of the year; then in May 2015 was named the OVC Male Athlete of the Year. He also has under his belt, the Lute Olson Award.
Payne's skills might be a family thing, both his father and older brother played the point guards position.
Cameron's father, Tony Sr., played point guard in high school, but at 5-7, that was all for his playing career. But he stayed in the game, coaching AAU for years and raising his boys as floor generals. While Tony Jr. –who is 4 years older than Cam –played at Lane College in Tennessee.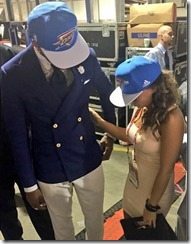 As you probably saw it coming, Katie is also a student at Murray State. She was born Katelynn Anne in Chesterton, Indiana, and according to her Facebook page, she studies Criminal Justice at Murray State University.
Katie attended Murray High, graduating in 2013. She and Cam have been dating for almost two years.
The love birds are not shy at all when it comes to showing their feelings, don't miss their photos below!