19-year-old D'Angelo Russell has been picked with the 2nd overall selection in the 2015 NBA draft by the Los Angeles Lakers! The word is D'Angello got picked over Jahlil Okafor, which Coach Byron Scott explained it by saying, "Okafor is going to be a good center in this league. I think D'Angelo has a chance to be a superstar."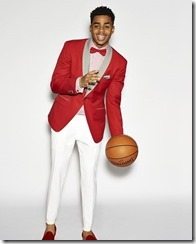 That's certainly huge for anybody who wants to make it in the NBA, certainly the Louisville, Kentucky native is living the dream, question is, is someone else living it with him?
Russell –who committed to Ohio State on June 7, 2013, over Louisville, Michigan State and North Carolina –has been described as one of the most productive players in college. According to his profile he's a "precocious point guard with tremendous ball skills" "Smart, and smooth guard who never seems to get rattled or rushed into making mistakes…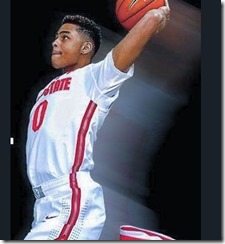 Lakers general manager Mitch Kupchak said of Russell "He's got skills that are very good on all levels," "But really, his ability to understand the game, see the floor, make a play, display leadership characteristics…I think that's his gift."
The newest L.A. Lakers point guard seems to have it all, but we are not quite sure if he is currently dating any special ladies. However, he seems to be pretty close to pretty Noelle St. John of the Ohio State synchronized swimming team.
Did the Lakers' decision to move into the future with Russell rather than hold onto the past with bigger players like Okafor will pay off? We'll have to see, any comments?
Actually  D'Angelo Russell Girlfriend is Laura Ivaniukas