Meet Karimi Chavez, the lovely wife of Uruguayan soccer player Derlis Gonzales. Her 21-year-old hubby is a sticker currently playing for Swiss club FC Basel and the Paraguay national team.
If you are following the Copa America, you've probably know Paraguay beat Brazil 4-3 on penalties to reach semi-final, according to reports FC Basel midfielder González scored Paraguay's penalty in normal time before taking his chance from the spot to secure a famous victory over Brazil in Concepción.
As we couldn't be more excited for Karimi's man, a tragedy struck following his great joy. The uncle of Derlis González died of a heart attack while celebrating the victory.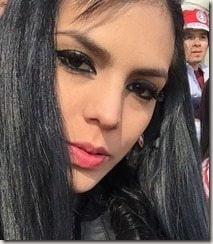 Karimi and Derlis have one of those stories, they began dating in 2012 while still very young, he was only 18-years-old. She has been a great source of support for the young player, and has been there in the good and the bad.
They met through Derlis' sister, Male who arranged for Karimi –who was part of a band called Kumbia vit – to perform for him.
By their first year-anniversary in February of 2013, the couple announced Karimi was expecting their first child, she gave birth to a daughter later in 2013 –whom they named after her mother.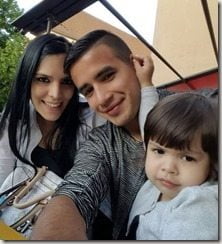 The young couple, by then a family of three, tied the knot in December 2014. To the wedding the couple invited several footballers including Gustavo Gómez, Julio César Cáceres, Beto de la Cruz, Ángel Lucena.
Karimi is very active on social media, she's often posting photos of her and the couple's baby girl adding loving messages to her man. You can find Karimi on Twitter here, Instagram here.