Cassandre Davis
Cassandre Davis is the voluptuous model who was pictured getting up and close to soccer star, Cristiano Ronaldo. Is the blonde bombshell his new girlfriend? That's the question that has everybody puzzled!
Everybody knows the Real Madrid soccer player is known for jumping from one hot girl to the next. Just days ago he was seen hanging with Mexican beauty Eiza Gonzales. The pair allegedly partied the night away in Hollywood's Warwick nightclub.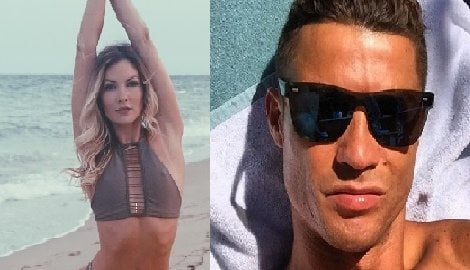 While in Spain, he also made time to hang out with an unnamed blonde beauty in Ibiza nightclub Pacha. Truth is since hitting the single market again and departing from ex-girlfriend model Irina Shayk last year, he's been seen with a number of beautiful women.
Next on the list, we have Cassandre Davis –with whom he was pictures kissing! TMZ reported the footballer was seen kissing a smoking hot mystery chick in a pool in Miami. Well, the blonde happens to be Davis.
Cassandre Davis is a social media sensation, her snaps showing her perfect curves have gained her quite the following on social media. On Instagram alone she has over 500K followers.
She is also described as a fitness model. She often shares videos of her gym time and how hard she works to maintain those curves. The fitness model is currently based in Miami.
But you'll be stunned to know, Cassandre Davis is not all beauty. She holds a master's in business from the University of Florida and currently works in marketing.
According to her LinkedIn page, Davis works as a regional marketing manager for Vita Coco coconut water. The position she's held since 2011 requires for her to organize events and to train other marketing personnel.
Thanks to social media info, we know she is a graduate of Pine Crest High Scool in Boca Raton and is actually a native of Mexico. Cassandre Davis –who also goes as Casi Davis –lived for a while in Los Angeles.
Davis definitely fits the kind of woman Ronald is used to dating, do you see them having a future together?
You can check her out on Instagram here.