Kayla Rae Reid
Kayla Rae Reid is the stunning  girlfriend of gold Olympic swimming star, Ryan Lochte. Her man is currently competing in his fourth Olympic Games in Rio.
Born in Daytona Beach, Florida; Ryan Lochte has become a transcendent figure in the Olympic world. The 31-year-old is the son of Steve Lochte and Ileana Arabura. Ryan has two older sisters, Kristin and Megan, and two younger brothers, Devon and Brandon.
Lochte began swimming under the tutelage of his parents in Rochester, New York. As a Florida Gator, Ryan was a two-time NCAA Swimmer of the Year, 24-time NCAA All-American, and 7-time NCAA Champion.
Ryan is an Olympic veteran, having previously qualified for the 2004 Athens Olympic Games, the 2008 Beijing Olympics and the 2012 London Olympics.
Ryan is an 11-time Olympic medalist (including five Gold, three Silver, and three Bronze). His seven individual Olympic medals are second all-time in Men's Swimming and he is the current world record holder in the 200 and 400 individual medley. Ryan has been named both American and World Swimmer of the Year twice in his career (2010 & 2011) and has a total of 70 medals in major international competition including 45 first place finishes.
Ryan's accomplishments in the pool have helped him gain pop culture status outside the pool. He has made cameos on episodes of 30 Rock and Beverly Hills 90210, as well as appearing on People's 2012  List.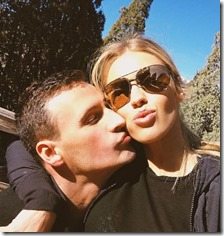 Aside from swimming, he is involved with the Parent Project Muscular Dystrophy and serves as a spokesperson for the Mac Crutchfield Foundation. Other interests of his include fashion, playing basketball, skateboarding and surfing; though we can also add his beautiful girlfriend, Kayla Rae Reid, to the list.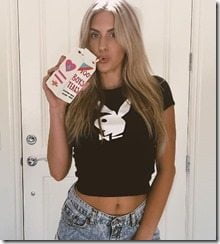 Things between the two seem serious. Kayla Rae Reid has already gained the stamp of approval from Ryan's mom so that is a good sign of where the couple is heading.
The gorgeous blonde follows her man closely on who has more social media followers. Though Kayla Rae Reid falls short from her man's 533K followers she put ups the fight with a respectable 407K.
That is because Reid is quite famous in her own right. The glamour model was one of the Playmates on hand at the PSuper Bowl Party at AT&T Park in San Francisco in February. According to her LinkedIn, the 25-year-old, attended Orange Coast College and Northern Virginia Community College.