Chanelle Arnold
Meet Chanelle Arnold, this pretty NFL Wag is the stunning girlfriend of Willie Snead, a wide receiver for the New Orleans Saints. He was first selected in the NFL Draft by the Cleveland Browns, he also played college football with the Ball State Cardinals football at Ball State University in Muncie, Indiana and for the Muskeon Tigers at Muskegon Heights High school prior to college.
Before we can tell you about pretty Chanelle, first we need to talk about her man. Check Willie Snead's five facts.
Snead was born October 17, 1992 in Winter Park, Florida to Sofia and Willie Snead. He has one brother and one sister.
He attended atGlade Central High School in Belle Glade, Florida, Holland Christian in Holland, Mich. Before graduating from Muskegon Heights High School.
He played with the Ball State Cardinals
Snead signed as an undrafted free agent with the Cleveland Browns in 2014, but he was released after the pre-season.
Joined the Carolina Panthers' practice squad on September 23, 2014, and subsequently signed with Saints on December 11, 2014.
Ready to read about Snead's lady? Check Chanelle Arnold's Five facts you need to know.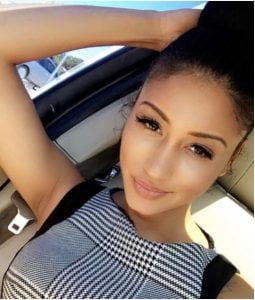 Chanelle Nicole Arnold was born in Florida.
She started dating Snead while they were in college after meeting each other at Ball State.
Chanelle was in Indianapolis when she gave birth to their daughter Nilah.
Snead's precious little girl Nilah Mai Snead was born on August 8, 2014.
Chanelle and Willie are expecting their second child, baby girl Snead #2 will be coming in April.
She is quite a pretty girl, isn't she? Do you know anything else about Chanelle? Share your thoughts with us in the comments box below, but don't leave without seeing her photos below.
Last but not least, subscribe to Fabwags.com and get our latest Wags stories send directly to you!