Terence Newman
Terence Newman, the cornerback for the Minnesota Vikings is the team's most-senior defender, he is currently on his 14th season. Is a special someone enjoying the NFL ride along with him? Is the 5 ft 10 in player in a serious and committed relationship or does he have a wife and children? Keep reading to find out.
Newman was born September 4, 1978. The Kansas native was an All-American his senior year at Kansas State University and won the Jim Thorpe Award in 2002.
He was drafted by the Dallas Cowboys fifth overall in the 2003 NFL Draft. He has been named NFC Defensive Player of the Week  twice. First in 2003 after recording 3 INTs at Washington and in 2015; after recording 2 INTs at Oakland.
He played in Dallas from 2003-11. Newman was released in 2012. He led the Cowboys in interceptions five seasons, tying him with Everson Walls for the most in franchise history. He scored three touchdowns with the Cowboys.
He spent the  2012-13 in Cincinnati before joining the Vikings in 2015.
He is a 2-time pro bowler who ranks 1st among active DBs with 190 games played and 2nd among active NFL players with 40 career INTs.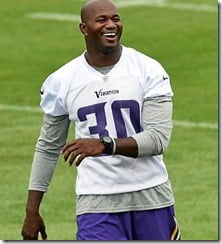 Many wonder why he hasn't switched to the less physically demanding position of safety, like most players his age do. That might have to do with the fact he is single!
Well not exaclty, an article on the NY Times mentions he has a "kind of girlfriend" in California. But that's almost the same as saying he is single. This so called girlfriend, whoever she is, is not even featured on his Instagram.
Newman who is the oldest cornerback in the league by nearly five years, is a total catch. He doesn't only make millions he is also into giving back. Throughout his career in both Dallas and Cincinnati, the 38-year-old has supported many causes including Children's Cancer Fund, Leukemia and Lymphoma Society, among others.
You can check out, Terrence Newman on Twitter here.