Meet lovely but dangerous AJ Lee, a former WWE Diva and wife of WWE wrestler turned MMA fighter Phil Brooks, better known as CM Punk. Neither needs much of an intro, her man is better known for his time as pro wrestler in WWE, the longest-reigning WWE Champion of the "modern era" while Lee is the longest reigning Divas Champion of all time.
Last year, the 36-year-old announced he signed with the UFC but had no experience. Since then he's been training at Roufusport Academy in Milwaukee. Recent reports say Punk could make his debut before the year ends and is expected to fight in the welterweight division.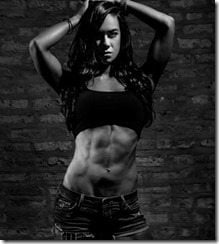 AJ was born April Jeanette Mendez-Brooks on March 19, 1987 in New Jersey. The self described tomboy has one brother, whom she credits her love for video games and anime.
The petit 5 foot 2'' competitor has proven to be the real deal, she is definitely fierce and shows an energetic, high-flying style that posed a threat to any contender. She is a three-time WWE Divas Champion and a two-time Diva of the Year.
According to her page, she made her WWE debut on the third season of WWE NXT. She was known in WWE world for her unpredictable antics, and controversial outspoken nature. But not all is about being violent, Lee is a proud supporter of shelter animals.
She became romantically linked to a few werestler including Daniel Bryan, Kane and even John Cena. She was also said to be in a relationship with former trainer Jay Lethal.
AJ and Punk tied the knot on June 13, 2014, he nine-years her senior. The couple currently resides in Chicago, where Punk is from.
Find AJ on Twitter here.