Meet Corey Bohan
Corey Bohan is the fiance of reality TV star, television presenter, actress, and model, Audrina Patridge. The happy couple announced today, they are expecting their first child together.
30-year-old Audrina shared the exciting news on an ad posted to her Instagram account. She told US Mag, Corey Bohan was the first person she told, "I asked him to have a look at the test and make sure I wasn't seeing things!"
Audrina and Bohan got engaged last month after 7-years of off-again, on-again relationship. Audrina gushed about her engagement telling in an interview, she has known Corey is the one for quite some time.
33-year-old Corey Bohan popped the question to Patridge over a romantic dinner at the Summit House in Orange County, California.
Back in 2006 we met the lovely Audrina as one of the cast members of Reality TV show The Hills. Corey Bohan has also made several appearances for the show.
Corey Bohan is a BMX biker. He hails originally form Australia. According to his Red Bull page, Corey was born January 15, 1982 in Brisbane.
As a BMX Dirt rider, he's won many prestigious BMX Dirt titles over the years, including the first three-peat in X Games BMX Dirt history and victories at Red Bull Elevation, Red Bull Empire of Dirt, and the Vans Dirt and Roll. His creative tricks and widely admired style have earned him the respect of his peers, who voted him Dirt Jumper of the Year at the NORA Cup Awards for five years in a row from 2004 to 2008.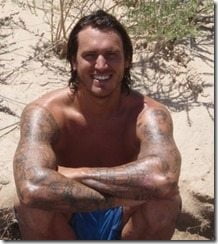 In 2012, he unveiled a new Red Bull YouTube BMX channel called "Wizard of Aus" that garnered mainstream attention and introduced hundreds of thousands of viewers to the sport of BMX. The series continued in 2013 under a new name, "Hanging Foul with Corey Bohan".
He said about the experience: "I had a lot of fun travelling around and giving viewers who aren't that familiar with BMX an insight into the behind the scenes," "We're reaching outside of the BMX world and helping people understand what we do."
When Corey or Core (for friends) isn't throwing massive back flips, or pulling no-hand one-foot to tailwhips; he can be found enjoying some sushi or listening to Samiam and Superchunk.
Find Corey Bohan on Instagram here.
Congrats to the future mom and dad!