Eric Decker and the Denver Broncos might be heading to the Super Bowl, but who cares when Decker is dating a girl as country singer Jessie James, Jessie is now known as Mrs. Jessie James Decker, wife of the fab Broncos player and soon to-be momma!!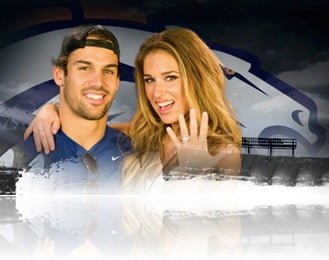 Eric Decker might be playing at this year's Super Bowl,  if that is the case we will be happy to see his  country singer wife Jessie, so why not finding out about her?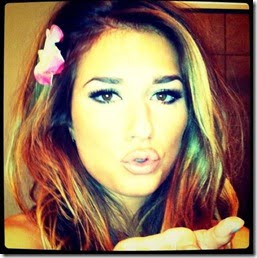 24-year-old Jessica Rose James aka Jessie James was born on April 12th, 1988 in Vicenza, Italy to Karen Palmer and a military father. She moved to Baker, Louisiana where young Jessie began her first steps in music.
By the time she was nine and living in Robins, Georgia Jessie James was already writing songs, at 15 she was working on writing songs in Nashville but it was until she was 17 that she met Karla Wallace from Yellow Dog Records who helped her with her songs, together with two other members from Yellow Dog,  Jessie wrote Gipsy Girl a song included in American Idol and performed by Carrie Underwood, the song put Jessie James on the map.
And soon L.A Reid got her a contract with Mercury Records, her first  album Jessie James was released in 2009, the album included songs like My Cowboy,  I Look So Good (Without You) and wanted. In 2010 she released her first single Boys in the Summer of her second album Sweet American Dreams, "When You Say My Name"  her second single was released last January and her third single Military Man was released in March.
We hear Jessie James and Eric Decker began dating in 2011,  their engagement was announced last April he actually proposed to her in Vegas the same place he first told her he loves her. Wedding bells coming this Year!!!
Eric and Jessie open their lives to the world were they starred in E!'s reality show Eric & Jessie: Game On where in front of the world they said "I Do"
Jessie Decker and her NFL hubby announced they were expecting their first child together on September 21st, 2013 via her Twitter and revealed they are having a girl on Instagram.
Jessie and Eric Decker posed together  for the GQ's February Love, & Madness Issue.
Follow Jessie James on Twitter here, find her on Facebook here and don't forget to visit her website here.