Anissa Evans
Have you met Anissa Evans? She is the gorgeous girlfriend of Deandre Ayton, the 7'1″ power forward Bahamian player for the Arizona Wildcats at the University of Arizona in Tucson. Before college, Ayton played high school basketball at Hillcrest Prep and Balboa City in San Diego, California. DeAndre Ayton was the first overall selection drafted by the Phoenix Suns during the 2018 NBA draft.
No doubt you don't want to read about DeAndre, therefore check out what we can tell you about his lovely gal.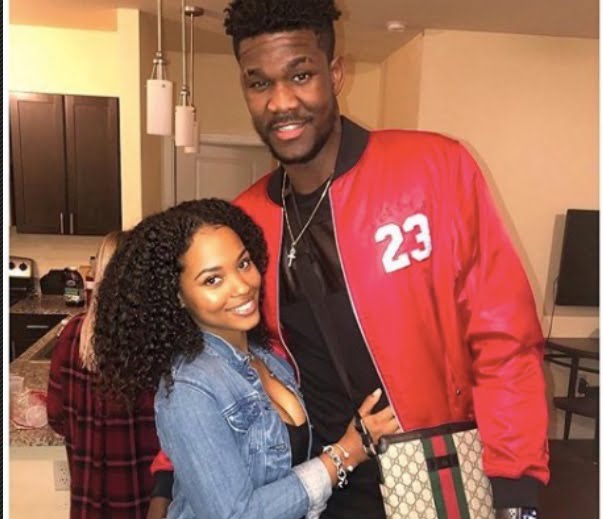 Deandre Ayton Parents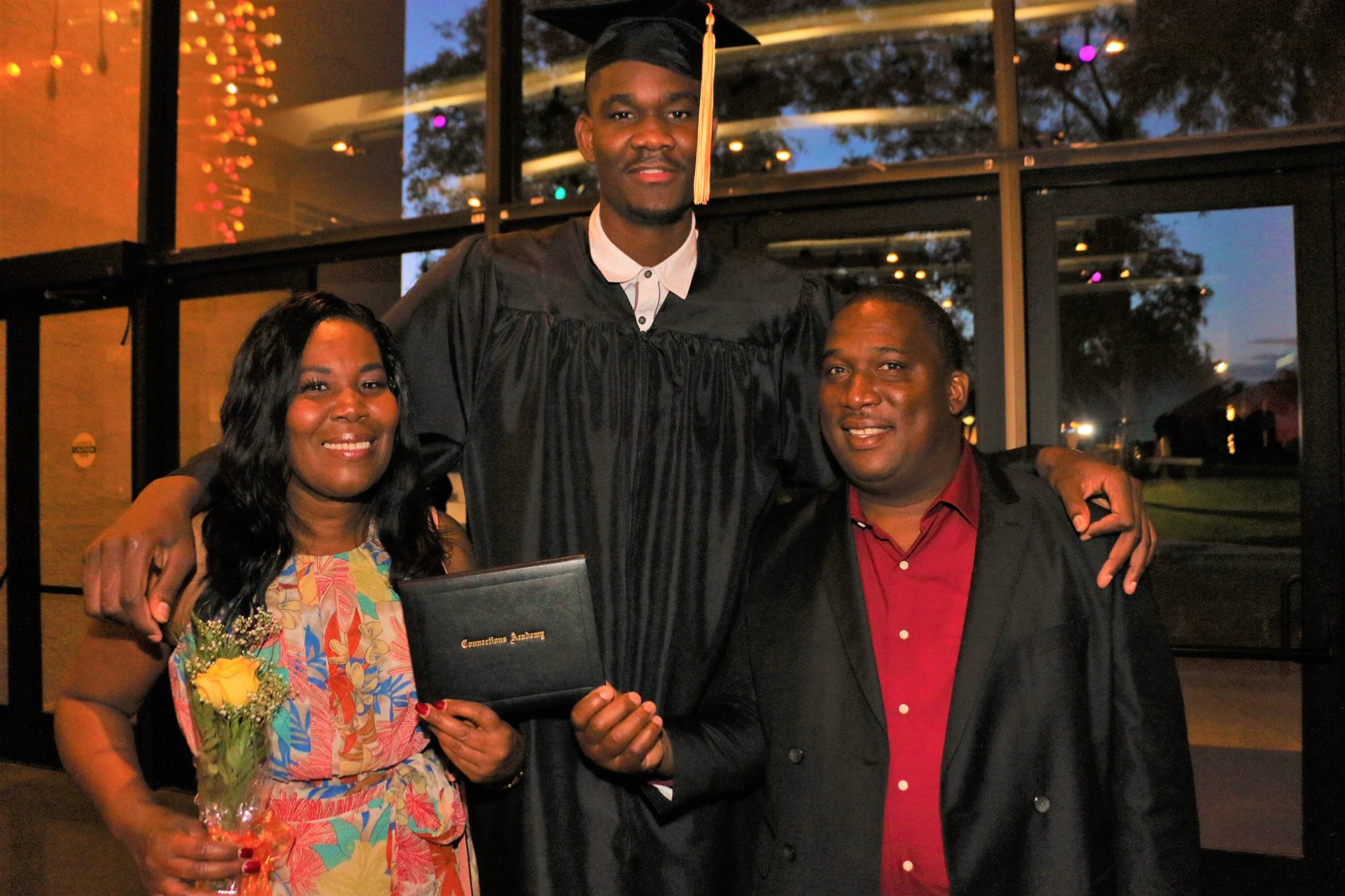 Deandre Ayton is one of the children born to Nigerian/Jamaican/Bahamian parents; his biological father is Nigerian, while his beautiful momma Andrea Chambers Aytoncomes from a Jamaican/ Bahamian heritage. Andrea married Alvin Ayton, DeAndre's step-father, who worked as a plumber when he and his four siblings were kids.  DeAndre's siblings are sisters Tiann, Serenity, brother Horace,
Alvin let DeAndre and his other children joined him for work; they would help out and get paid $20 a day for their work. Andrea notice her son's interest in basketball early on, so thanks to their  Seventh-day Adventist Church, Deandre was able to join a basketball league.
By the time Ayton was 12, he was standing at 6'5, the boy could dunk and people were noticing him; among those were basketball coaches. Andrea and Alvin moved Deandre to San Diego where he attended Balboa City School; unfortunately, Balboa didn't have a basketball program.
Deandre's first American sponsor Shaun Manning partnered with real estate investor Ryan Stone, and they started a premier basketball program; Deandre became their star athlete. At age 16,  Ayton would record 17 points, 18 rebounds in a game.
Deandre Ayton High School & College
Deandre Ayton initially attended school in Nassau, and he later attended Balboa City School in San Diego before transferring to Phoenix Hillcrest Prep. Ayton was a top recruit, received offers from Kentucky, Arizona, and Kansas; in the end, he committed to play with the Arizona Wildcats at the University of Arizona on September 6, 2016.
Deandre Ayton High School Awards & Highlights
All-USA Boys Basketball First Team
2017 Maxpreps High School Boys Basketball All-American third team
2017 Naismith High School Boys All-America first team
Deandre's debut as a Wildcats came against the Nor4thern Arizona Wildcats on November 10, 2017. He averaged 20.1 points, 11.6 rebounds, 1.6 assists in 35 games during the 2017-18 season; Deandre announced he was declaring to the draft, forgoing his last three years of collegiate eligibility after that season.
Deandre Ayton College Highlights & Awards
Karl Malone Award
NABC District 20 First team
All-Pac-12 tournament team
Pac-12 Tournament Most Outstanding Player
NBC Sports First Team All-American
NABC First Team All-American
AP Pac-12 Player of the Year
AP Pac-12 Newcomer of the Year
Pac-12 Freshman Player of the Year
All-Pac-12 First team
All-Pac-12 Freshman team
All-Pac-12 Defensive team
USBWA District IX Player of the Year
USBWA District IX All-District team
USBWA First Team All-American
AP Pac-12 First Team All-American
USA Today First Team All-American
Sporting News First Team All-American
Pac-12 Player of the Year
NABC First Team All-American
NABC District 20 First team
AP First Team All-American
Deandre Ayton Sean Miller Scandal
Sean Miller, the former Arizona Wildcats' head coach, was involved in the 2017 NCAA basketball corruption scandal that included paying DeAndre Ayton $100,000 to play at his school. Miller denied. The scandal investigations also included Wildcats' former assistant Emanuel  Book Richardson and agent Christian Dawkins and other individuals who allegedly accepted a $5,000 bribe to bring Arizona players to Christian Dawkins' sports management company.
A wiretapped conversation revealed Sean Miller and Dawkins talking about paying Ayton $100K for his commitment to Arizona; later on, the conversation was revealed regarding another player instead, clearing Ayton from the whole thing.
Miller was eventually fired from Arizona on April 7, 2021; other Colleges involved in the corruption scandal included LSU, Texas, San Diego State, Clemson, Michigan State, Wichita State, South Carolina, Washington, Kentucky, Xavier, Maryland, NC State, Seton Hall, USC, Utah, Miami, Louisville, and Oklahoma State.
Deandre Ayton NBA Stats
Deandre Ayton was the first overall selection drafted by the Phoenix Suns on June 21, 2018; Ayton joined the 2018 NBA Summer League on July 1, signed his rookie contract with the Suns on July 5th, made his Summer League debut on July 6th against the Dallas Mavericks,  recording 10 points, and 8 rebounds.
Ayton's NBA debut in the regular season came on October 17, 2018; once against the Dallas Mavericks, he recorded 18 points and 10 rebounds, 1 block, 1 steal.

Deandre Ayton Net Worth, Contract & Salary
According to Celebrity Net Worth, Deandre Ayton's net worth has been estimated at $5 million and an annual salary of $$10,094,808. Ayton signed a four-year, $$40,379,230 contract with the Phoenix Suns on  July 6th, 2018. In addition to his NBA contract, Ayton earns from his shoe endorsement with Puma, which he signed in June 2018.
"Puma is pretty popular in the Bahamas," Ayton said. "I've always seen the brand growing up. [Bolt] is one of the first people I saw with the brand. It's important to me that someone I identify with and admire as an athlete is with the same brand."
Deandre Ayton House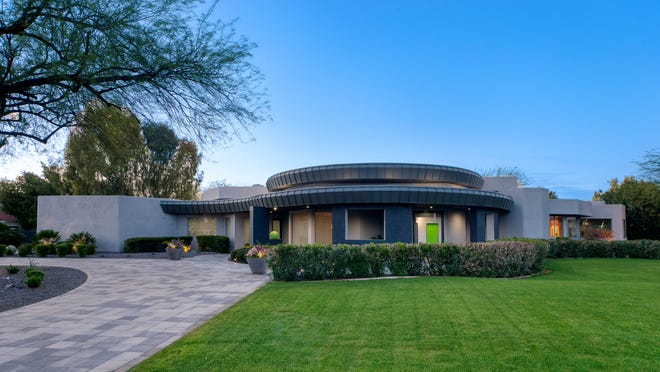 Deandre Ayton's house is a stunning 6,100 square-foot house he bought for $2.15 million in July 2019. The house has five beds, four baths, a steel pool, a luxurious fully equipped kitchen, gym, and big stone backyard landscaping.
Deandre Ayton Philanthropy
Back in 2019, Deandre Ayton donated $100,000 after the Bahamas was affected by Hurricane Dorian; Ayton created The Deandre Ayton's Hurricane Relief Fund, which provided donations for all those affected by Dorian.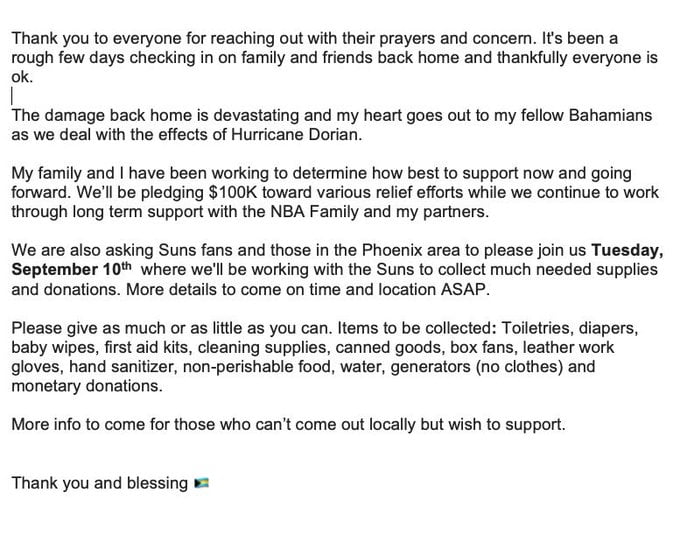 In May 2020, Deandre Ayton joined a local Phoenix restaurant Ocean 44, feeding the Talking Stick Resort employees during the COVID-19 Pandemic.
"I'm happy to support Ocean 44, one of my favorite restaurants while sending a small token of appreciation to all the staff who are taking care of the arena until we can get back on the court," Ayton said in a press release.
Deandre Ayton Jersey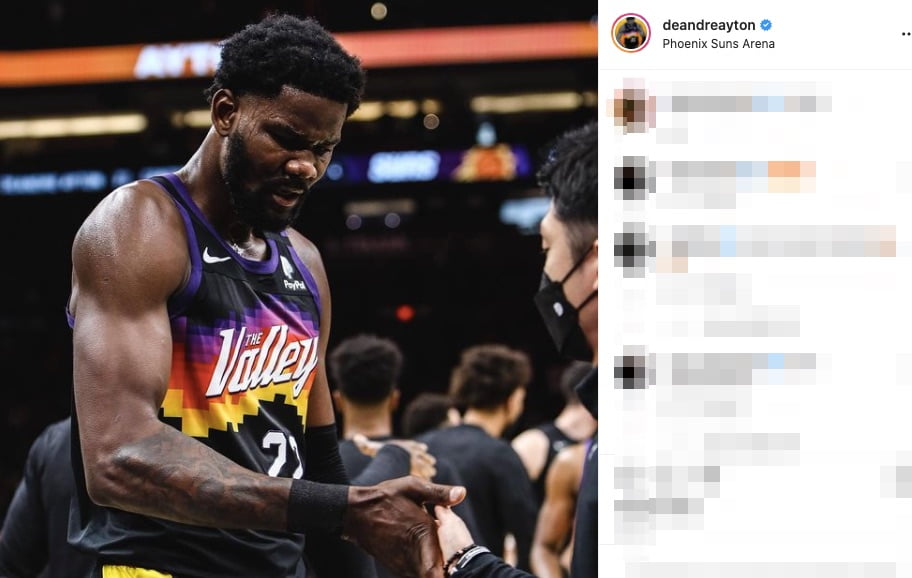 Deandre Ayton and Phoenix Suns fan can get their hands into his #22 jersey at the Suns' Store, NBA store, Fanatics.com. Sales start at $49.99 for the women's jersey and go up to $139.99 for Deandre's replica jersey.
Deandre Ayton Shoes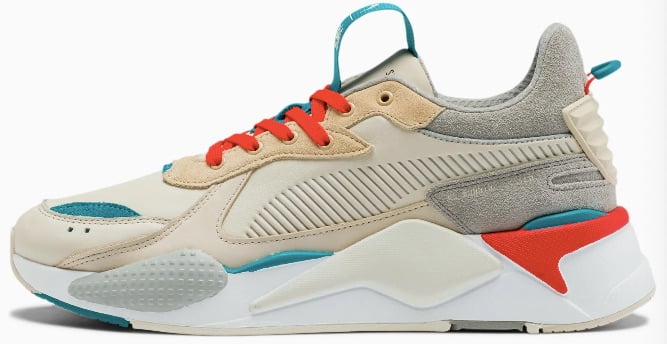 Deandre Ayton's shoe, the Puma RS-X, sold for $120.
"X marks extreme. Exaggerated. Remixed. RS-X DEANDRE brings the heat with the signature bulky design and fresh material mixes on the upper. Reimagining the iconic RS-X silhouette with a printed sockliner and bold colorways inspired by the Bahamian shoreline, this kick offers up a piece of home for Phoenix Center, DeAndre Ayton."
More recently, Ayton had Katty Customs customized his sneakers.
"Customized these to pay homage to some of the incredible, talented and influential women in my life. Big ups to @kattycustoms you did that! Appreciate your art and bringing my vision to reality."
View this post on Instagram
Deandre Ayton Girlfriend
Pretty Anissa Evans, like her beau, was born in Nassau, Bahamas; she is one of the children born to Andrae and Melissa Evans, happily married since June 28, 1997. Her dad is the owner of Bananas Sleep Solution in the Bahamas; he graduated from the University of Miami and the Art Institute of Ft. Lauderdale.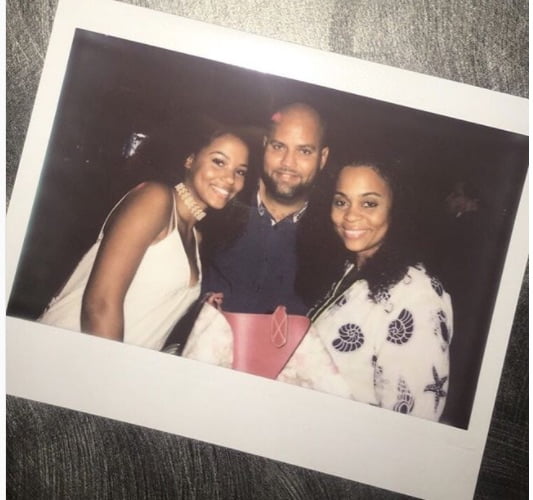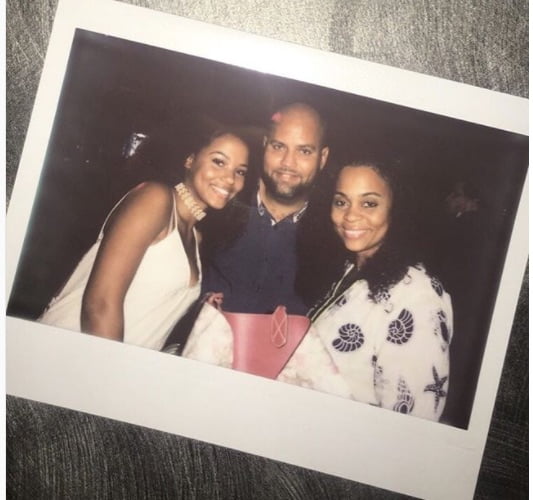 Moreover, Melissa, her beautiful momma, initially studied at Bahamas Baptist college; subsequently studied medical health at Nova Southeastern University.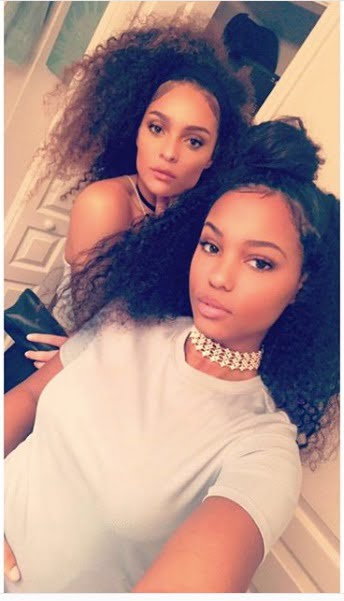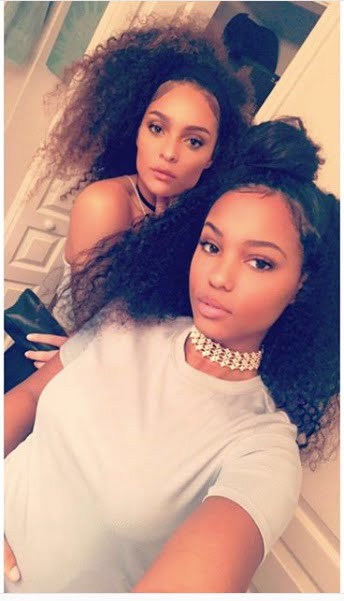 Furthermore, Anissa has three younger siblings Haley, Dreson, and one older sister Sienna. Pretty Anissa Evans graduated in 2017 from Jupiter High School; she later attended The University of Tampa and Hillsborough Community College.
Deandre Ayton Children
Deandre Ayton announced he became a father this year; Deandre Ayton Jr. was born in March 2021.
"Just trying to figure out the schedule" is his biggest challenge so far he says. "Waking up at 3 a.m. and going back to sleep for another two hours, just getting the hang of that, but I have a team at home that really helps me out with that. My girl holds it down for me and make sure I get enough rest for these games."
So My Girl, he said, that is Anissa Evans!