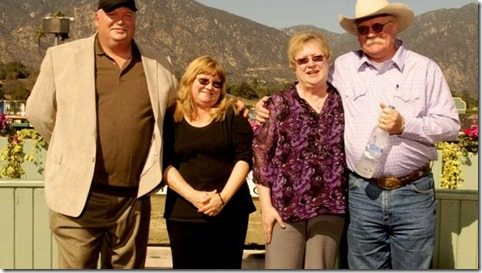 Perry and Denise Martin, who, with Steve and Carolyn Coburn, own the colt who earlier this week, California Chrome drew the number two post while opening as a 3 to 5 favorite for Saturday's Belmont Stakes.
But California Chrome will have overcome more than just a "break" and the "two hole". Since 1978, 12 horse had won both the Kentucky Derby and Preakness only to fail in the final leg of the Triple Crown. A major factor, the Belmont is the longest of the three races.
The owners couldn't be more different, The Martins do not enjoy the spotlight as much as the Coburns do. Steve Coburn called himself and Perry Martin the odd couple because "Perry is very quiet, and I'll talk to anybody."
An excited Carolyn Coburn said
"When he won the San Felipe, we were getting a lot of press," "And then he won the Santa Anita Derby, and we were getting more press. So it was like a month before the Derby, and we had people coming and calling, and he has a business."
Last months when California Chrome's improbable journey reached Pimlico Race Course two notable people from his entourage were missing. But there is no fissures among the owners, just a little exhaustion on the Martins' end.
"They are wonderful partners," Carolyn Coburn said. "We couldn't ask for better partners. We're a team, and we will continue to be that way."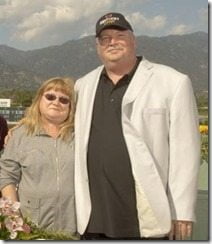 The Martins, Yuba City residents, are not very fond of the spotlight, they own a laboratory in Sacramento that tests safety equipment like air bags and landing gear.
Their story is well-known across the nation by now after recent feature stories in Sports Illustrated and several other major publications, as their 3-year-old colt, California Chrome, is the favorite to win the world's premier horse race. Their $10,500 investment is paying off big time, in his wining streak California Chrome has earned more than $1.13 million in winnings.
The Martins moved to Yuba City in 1994 when Perry got a job as an engineer at McClellan Air Force Base. After the base closed in 2001, the Martins bought the testing facility, Martin Testing Laboratories.

The Martins are both natives of Chicago and frequented the racetracks in the area before moving to California. Denise says
"We moved here so we could have our weekends with the kids"
They own a modest home in Yuba City where they raised their two children, both of whom graduated from Yuba City High.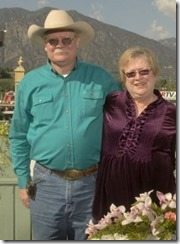 Steve and Carolyn Coburn of Topaz Lake, Nev., Steve Coburn, a press operator at a company that makes magnetic strips for credit cards and drivers' licenses. The Coburns were pulled into racing by Carolyn's interest in playing the ponies.
63-year-old Carolyn Black, a former accountant and her husband were in their 40s and relationship-weary from marriages gone bad. They were introduced at a party, and Coburn wanted to dance. He found Carolyn "real pretty"; she found him "kind of loud."
The Coburns, married now for 20 years, believe the planets aligned to bring them together. In the same way, they hold firm that some greater force handed them another improbable gift: a thoroughbred they call Junior, known to the world as California Chrome.
The owners recently turned down more than $8 million in offers for a stake in Chrome and his mom. Junior was born in California to a filly deemed nervous and a stallion dismissed as washed up. The colt was never supposed to be a running machine who has won his last six starts by a combined 27 1/2 lengths.
Let's just say the Coburns' love for this colt is very deep. Just on more day before the colt attempts to become the first horse in 36 years to sweep the Triple Crown.