Heather Neel Carr
Meet Heather Neel Carr or simply Heather Carr; she is the lovely wife of Derek Carr, the former Fresno State player who generated the most buzz in the days prior to the draft. Carr is currently the starting quarterback for the Las Vegas Raiders. Derek Carr is the younger bro of David Carr, who was the #1 overall pick of the 2002 NFL Draft.
Derek Carr Parents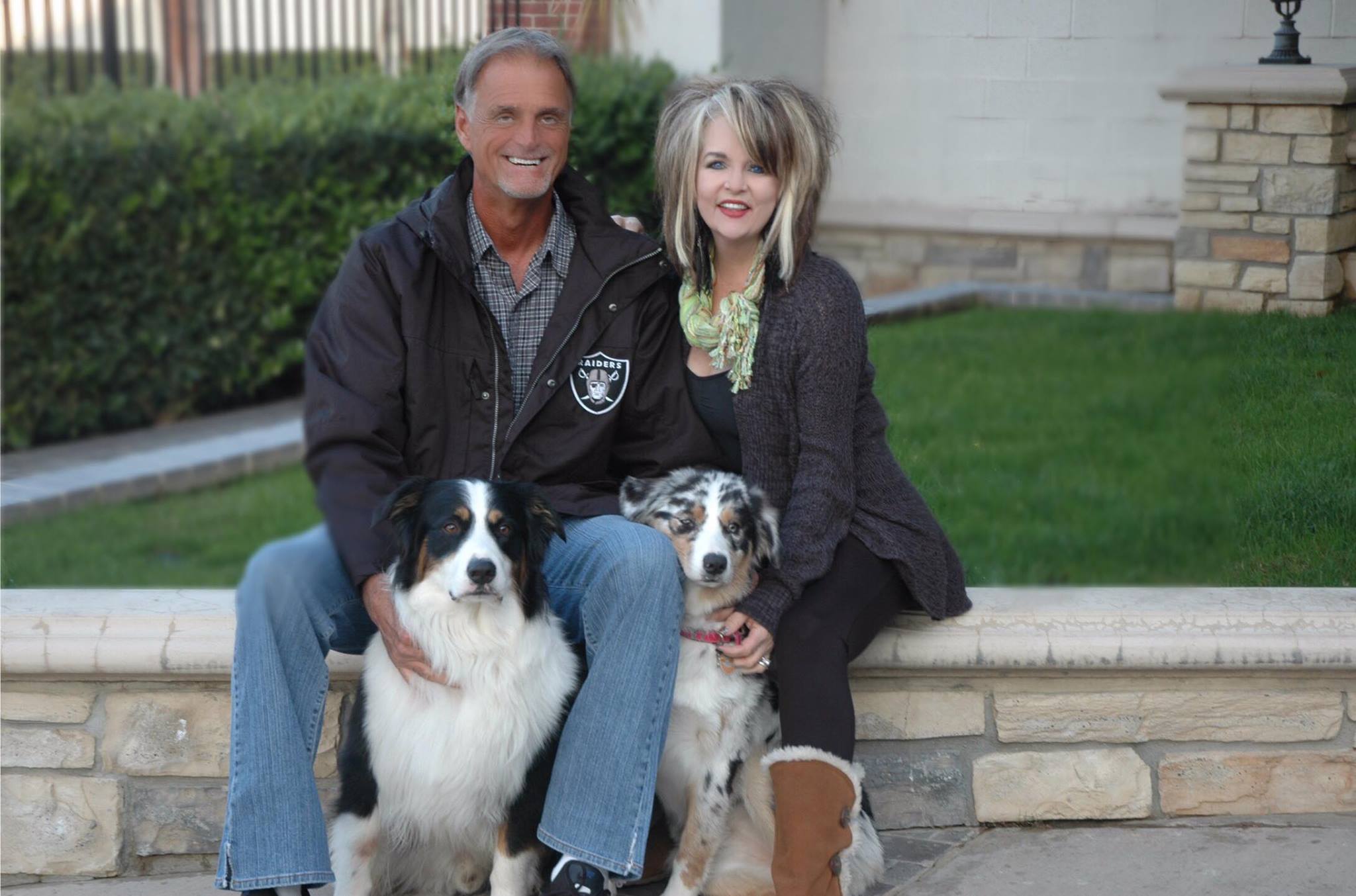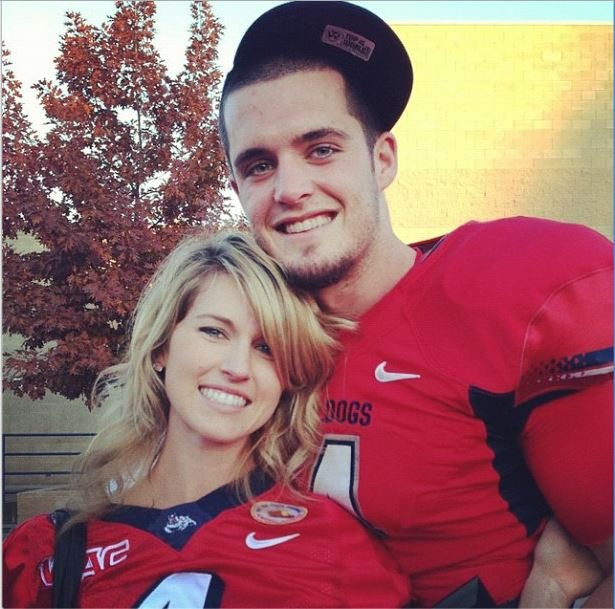 6'3 Derek carr born on March 28, 1991, in Fresno, Cali is one of three children born to Sheryl and Rodger Carr. Derek dad, Derek Duke Carr born on July 9, 1952, graduated from San Lorenzo Valey High School, he works at Buick Motor City Auto Center in Bakersfield, California.
Mom Sheryl was born Sheryl Kay Joyner on July 28, 1958. She attended West High School and Liberty Christian Center, Mrs. Carr is an independent writer.
Derek Carr Brothers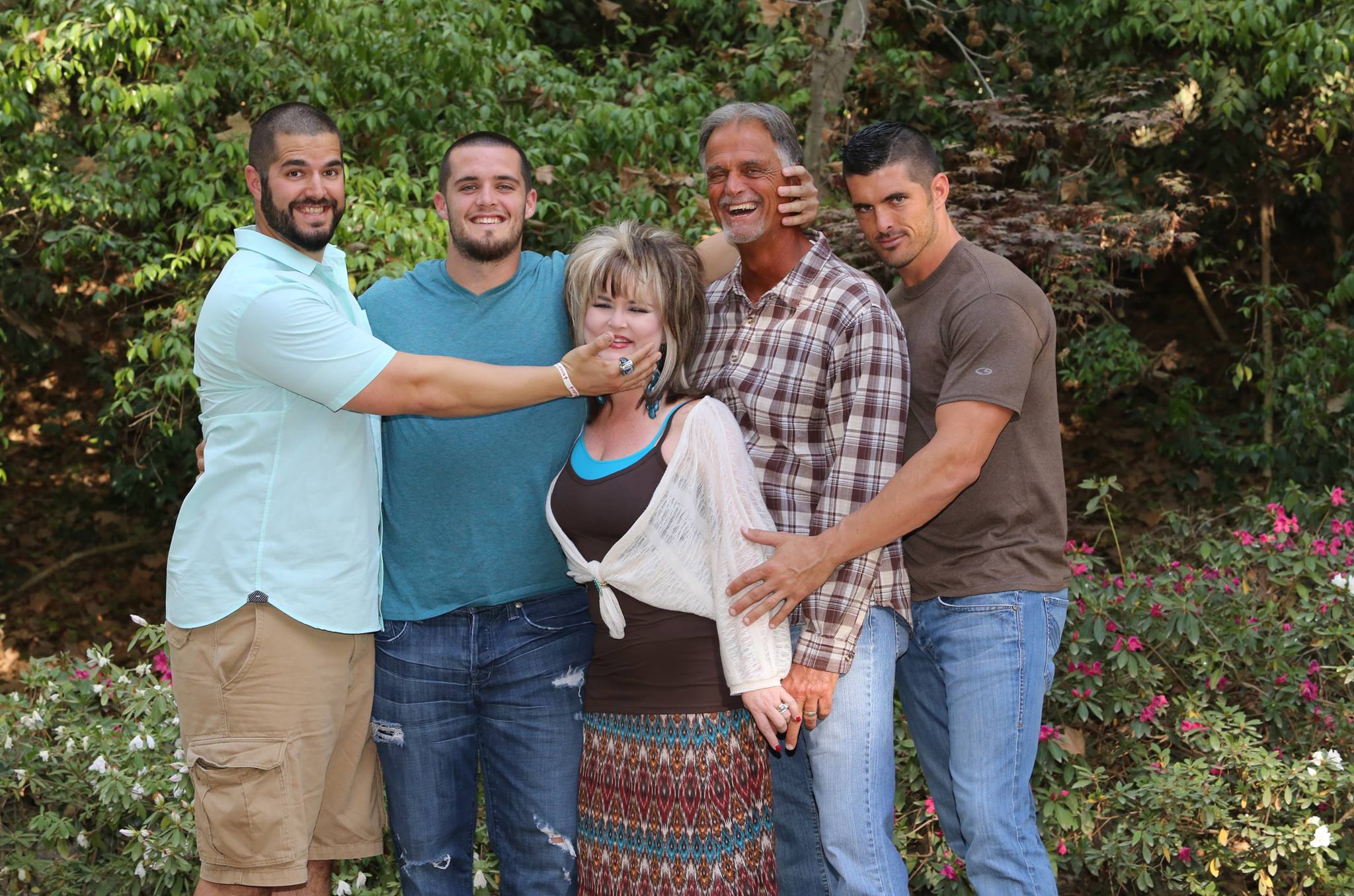 Derek carr has two brothers David a former NFL quarterback and Darren Carr a high school football coach.
David Carr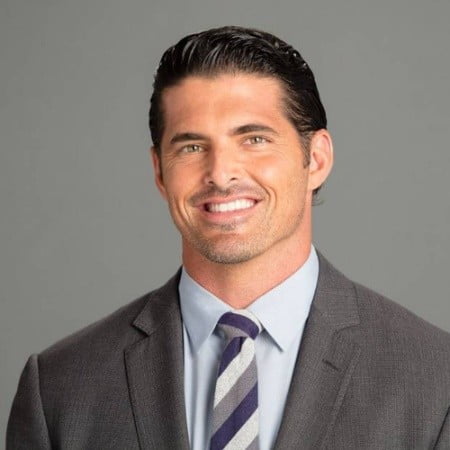 6'3 David Carr was born on July 21, 1979, he graduated from Stockdale High School and Fresno State. Davis was selected first overall by the Houston Texans during the 2002 NFL draft. He leftthe Texans in 2007, when he signed with the Carolina Panthers, the following year joined the New York Giants and the San Francosci 49ers in 2010.
He returned play for the New york Giants in July 2011, he retired in August 2013. After that happened, David Carr worked asan offensive coordinator at Bakersfoeld Christian before he stated a career as an analyst in 2016 with the NFL Network, he also is the co-owner of Carr Elite.
David Carr resides in Bakerfield, Cali with his wife Melody Carr, mother of his five children.
Darren Carr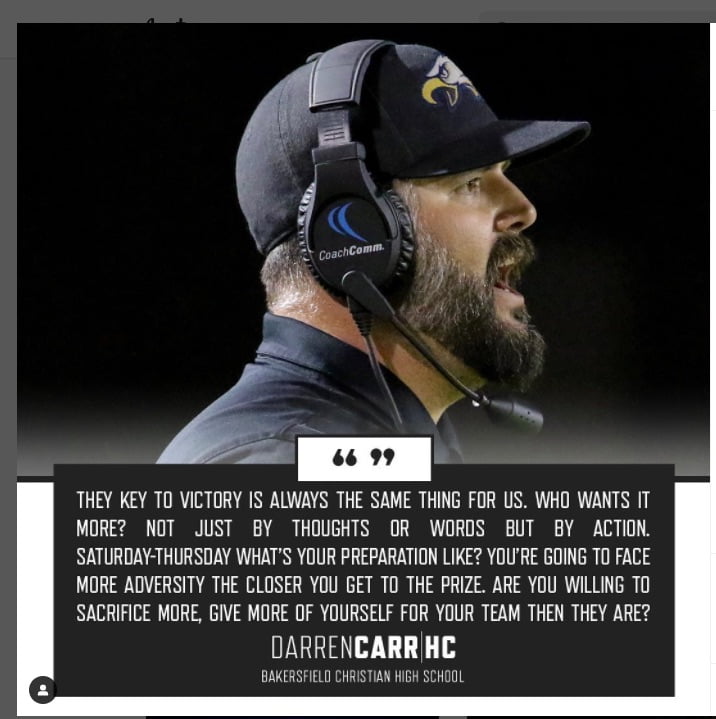 Coach Darren Carr was born on July 8, 1982. Darren is the head coach for the football team ay Bakersfield Christian High School, CIF 2019 State Champions.
Darren Carr beautiful wife Shana Carr have three amazing kids together.
Derek Carr College Stats
Derek Carr attended Bakersfield Christian High before switching to Clements High School. He committing to play at Fresno State over offers from Utah and the University of Southern California.
Carr completed 10 of 14 passes for 112 yards in four games his freshman year; he completed 279 of 446 passes for 3,544 and 26 touchdowns in 13 games his sophomore year. During his junior year he completed 344 of 511 passes for 4,104 yards, 37 touchdowns in 13 games, his last year at FrsnoState he completed 454 of 659 passes for 5,083 passes, 50 touchdowns in 13 games.
Derek Carr NFL Career
On May 8, 20154, the Oakland raiders selected Derek Carr in the second round (36th overall) in the 2014 NFL draft.
He signed his rookie contract with the Raiders on May 21, 2014.
He made his NFL debut against the SeattleSeahawks on August 28, 2014.
On September 1, 2014, he made his first NFL start against the New York Jets.
On September 13, 2015, he exited a game  against the Bengals with an injury in his throwing hand.
He was the starting QB at the 2016 Pro Bowl on January 20, 2016.
On November 27, 2016, Carr dislocated his pinkie finger on his throwing hand.
On December 24, 2016, he suffered a fibula fracture  against the Indianapolis Colts.
On June 22, 2017, he signed a contract extension with the Raiders.
He made his third Pro Bowl on On January 22, 2018.
Derek was fined $15,000 for violating the NFL's COVID-19 protocol on October 5, 2020.
He suffered a groin injury during Week 15 against the Los Angeles Chargers.
Derek Carr NFL Stats

Derek Carr Net Worth
As of January 2022, Derek Carr's net worth has been estimated at $25 million. In addition to his NFL salary, Derek Carr earns roughly $2 million from his endorsement deals with Nike, Panini,
Derek Carr Contract & Salary
Derek Carr's five-year contract with the Las Vegas raiders is worth $125 million. His contract included a signing bonus of $12.5 million, $70.2 million guaranteed; his annual salary is $25 million.
On May 21, 2014, Derek Carr signed his first contract with the Oakland raiders, the four-year deal was worth 5.37 million with a $2.2 million signing bonus.
On June 22, 2017, he aggred to a four-year contract extension, for $125 million.
Derek Carr Jersey
Derek carr's #4 jersey is available at the 'S Sporting Goods,the NFL Shop, Fanatics, and Amazon.
If you are also interested in purchasing Derek Carr's official merch, you can head out to DC Merchandise, for some amazing hoodies, gear, shirts, backpacks, hats and leggings designed by Carr.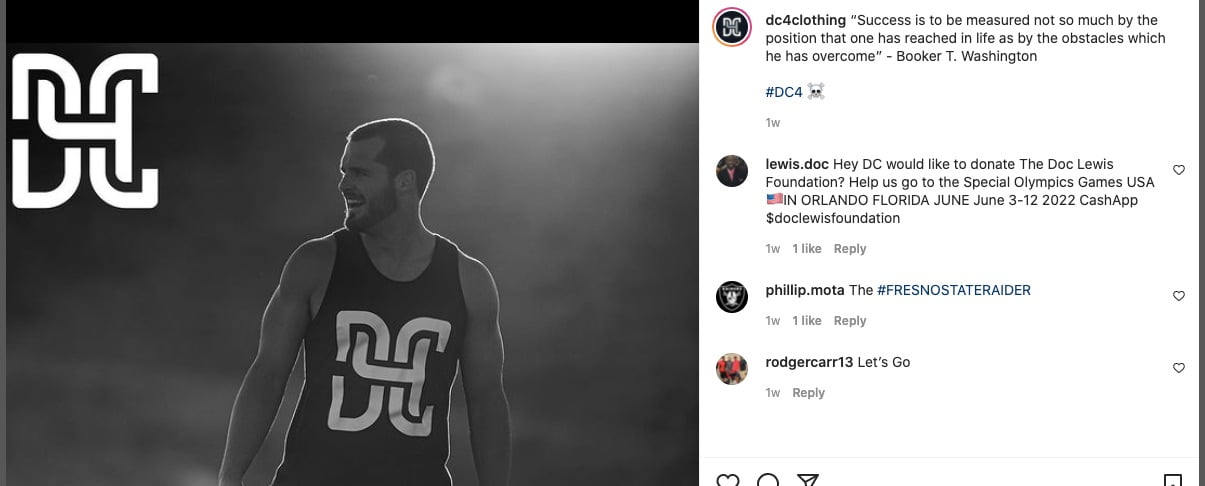 Derek Carr Eyeliner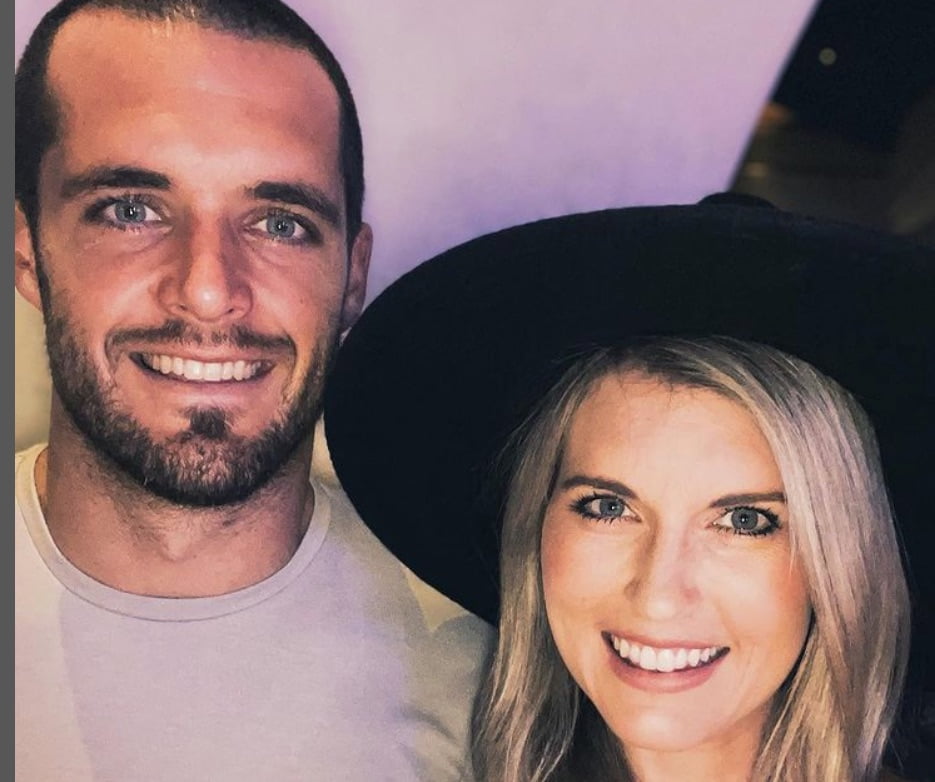 Derek Carr has beautiful eyes,  but he doesn't wear any eyeliner, he has thick, long and block eye lashes that makes his eyeslook like he might be wearing eyeliner.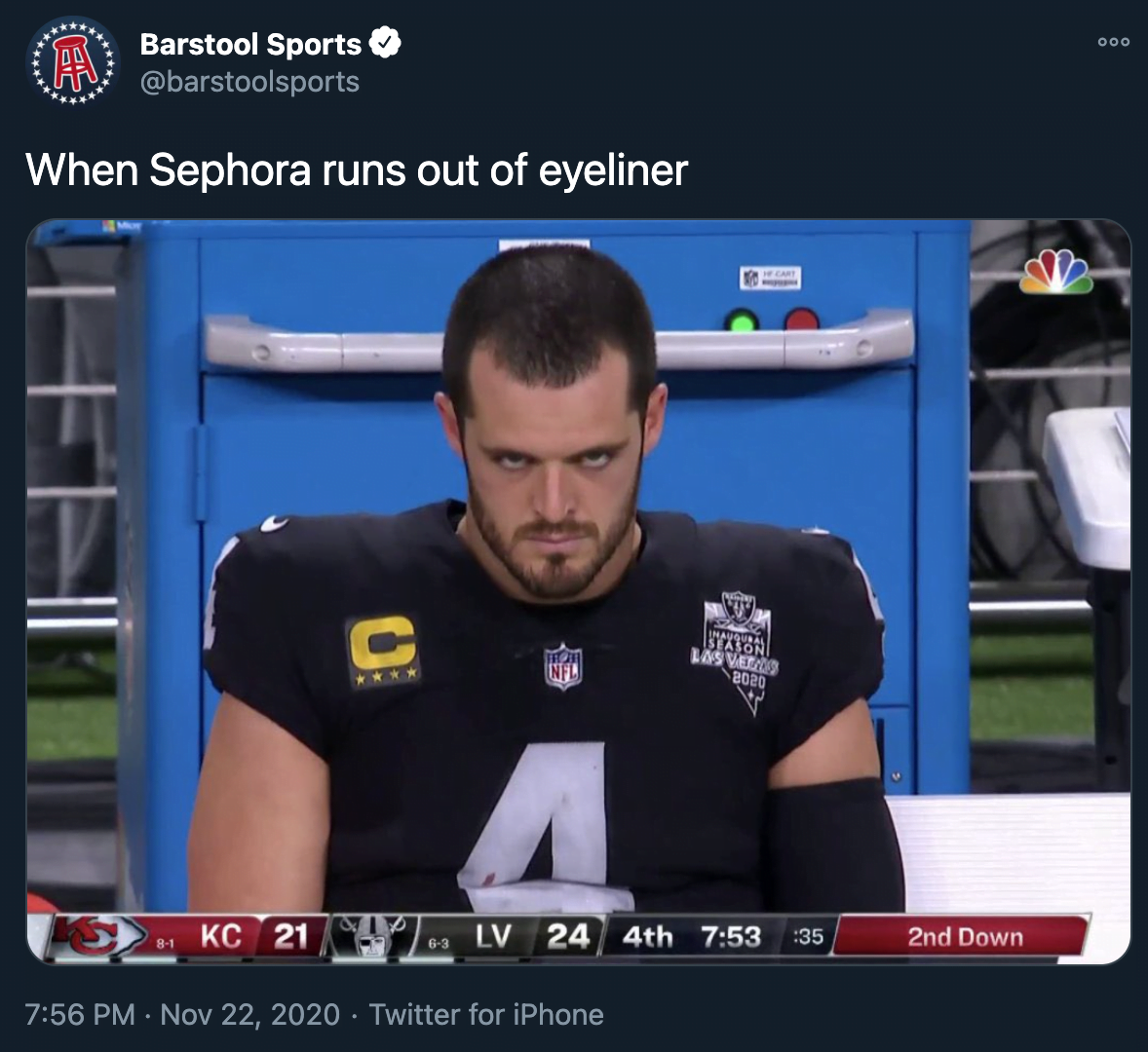 Derek Carr Tattoo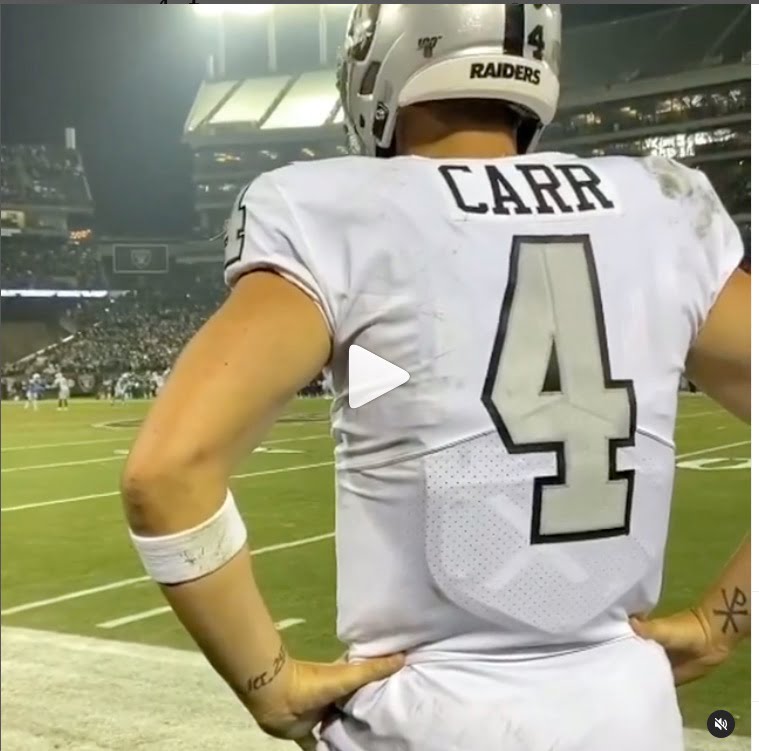 Derek Carr hastwo tattoes on his wrists, on his right is the Chi Rho symbol which his brother David also has and on his left wrist is a bible verse from Jeremiah 29:11.
"'For I know the plans I have for you,' declares the Lord, 'plans to prosper you and not to harm you, plans to give you hope and a future.'"
Derek Carr Wife

33-year-old Heather Carr was born Heather Ashley Neel on January 3, 1989; she is the lovely and only child of Bryan and Vicki Neel (nee. Crawford).
Heather Neel Carr Bio
Her father a Fresno State University graduate is the CEO at Bay Lighting Sales, Mr. Neel previously worked at International Case, Bryan Neel Inc, and was the owner of Glass Masters. Her momma Vicki is a teacher at the Clovis Unified School District.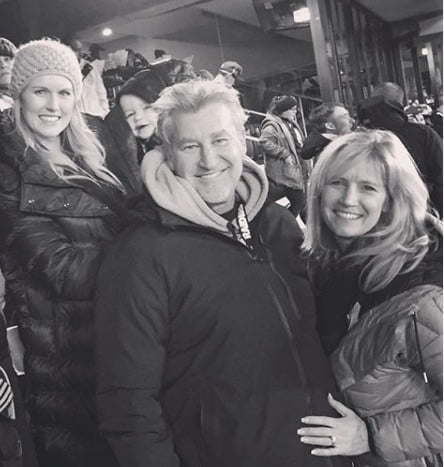 Heather Carr met her husband in 2009 when she was working as a waitress at a BJ's Brewhouse about half a mile from Fresno State, Heather talked about that special during an interview.
"I had like diamond earrings in my ear and I had them both, I knew I did. He said, "Why are you only wearing one earring?" And it made me check my ears. And I was like, "that's your pick up line?" (It worked) it did work. I talked to him."
And when he found the courage to ask her out on a date, he knew his friends wouldn't believe how lucky he was to be dating a beautiful girl like Heather so…
"I asked her if she could come pick me up because I wanted to show her off to my friends because she was so beautiful. They wouldn't believe me. I'm texting this girl. She's so beautiful. I'm gonna marry this girl. And they would laugh at me. We hadn't even hung out yet."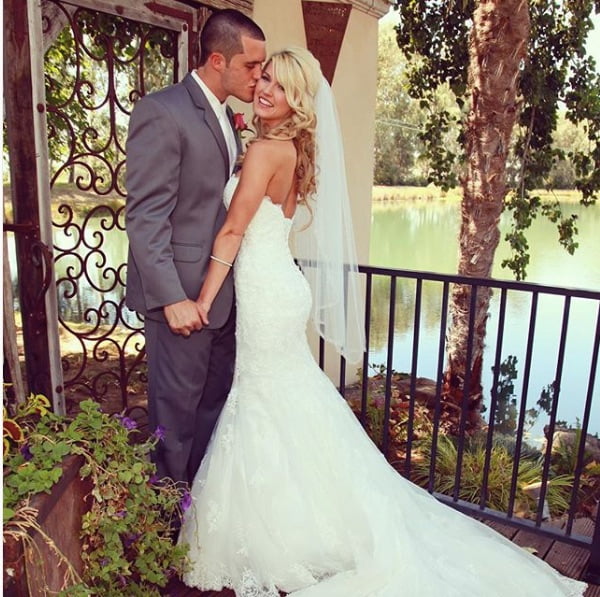 Heather a former cheerleader became Heather Carr on June 29, 2012; she gave birth to their first child, a son Dallas was born on August 5, 2013.
Little Dallas Mason Carr was born with intestinal malrotation, a condition that required three surgeries to correct; the first was done less than 12 hours after birth, he had a second surgery on August 8.
The second surgery was to widen the pathway through his intestines followed by a third surgery on September 11, to remove an obstruction formed from scarred tissue that had covered the part doctors had cut out before, Dallas underwent 5 hours during his third and final surgery, he is completely healthy now.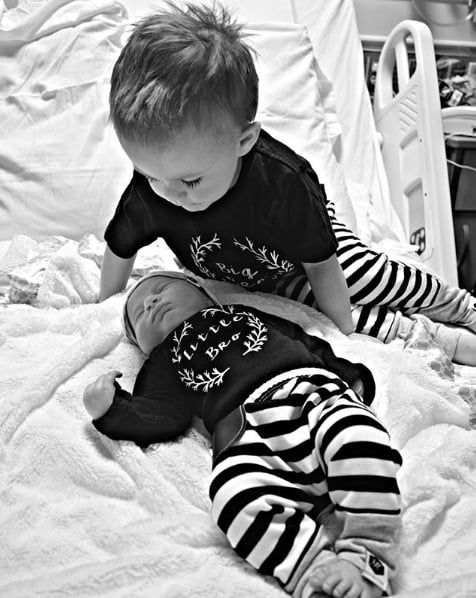 Dallas became a big brother in 2016 when Heather gave birth to their second son Deker Luke; these two beautiful boys welcomed their youngest brother Deakon Derek Carr on May 16, 2019.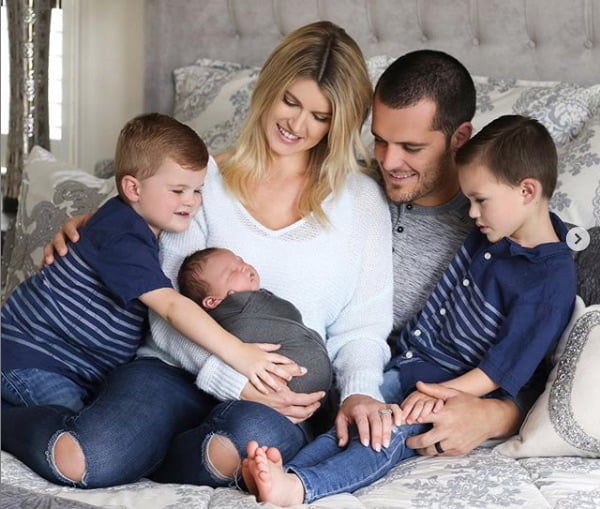 Heather and Derek Carr welcomed their fourth child, daughter Brooklyn Mae Carr on November 30, 2020. Little Brooklyn was born at 6:00 p.m. weighted 7 lbs. 12 oz. and 19 1/2 inches long.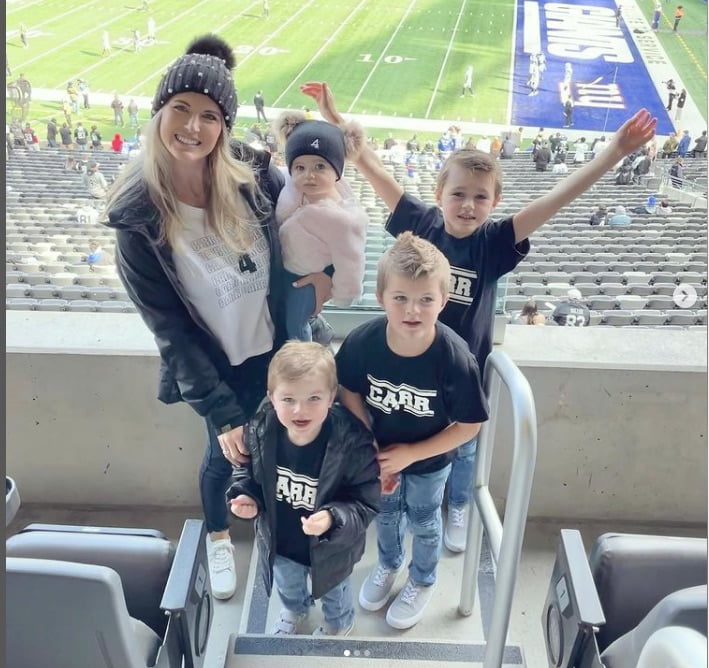 You can follow Derek Carr's wife Heather on Twitter here
Related Story: Josh Jacobs Mother Lachelle Jacobs