Meet Judy Coughlin
Judy Coughlin is the proud wife of veteran NFL coach, Tom Coughlin. Her 69-year-old husband officially resigned as the Giants head coach and made an emotional last appearance on Tuesday's press conference.
Coughlin returned the Giants to NFL prominence by winning two Super Bowls, but he resigned after the team missed the playoffs for the fourth consecutive year.
During his speech he thanked just about every member — past and present — in the Giants organization including his wife. He spoke about the right ways to play football and got choked up briefly as he looked back on 12 seasons with the team.
Tom's emotional exit left many with a sour taste, that includes, Eli Manning in tears with his former coach's last message. He also said Judy and him don't say goodbye, only 'next time.'
Just as her hubby is a renowned figure in the NFL world, Judy Coughlin has also been a star football wife and mom. Judy Coughlin and her hubby are the parents of four. Daughters, Keli and Katie, and sons, Brian and Tim. She has eleven grandchildren: Emma Rose, Dylan, Shea, Cooper, Caroline May, Marin Elizabeth, Gunnar Nicholas, Brennon, Clara Amelia, Walker, and Allie.
Judy Coughlin has been with Tom throughout his career, moving from Boston College to Jacksonville to New York and two Super Bowl victories.
Judy and Tom have been married for over 40-years. According to playerwives, the couple tied the knot in 1967.
The couple has a deal. Every season, no matter how the season ends, Coughlin takes five days off in order to spend time with his wife. It gives the couple a chance to reconnect after the insanity that is the NFL season and to take a step back from the spotlight.
The marriage spends most of her time with family, particularly the growing group of grandchildren.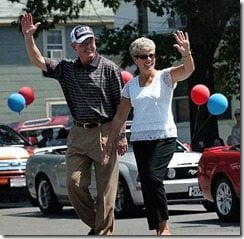 Pin
Judy Coughlin is involved in a number of charities but mainly in the Jay Fund and regularly makes appearances with Coughlin at the Foundation's events throughout the year.
The foundation was established in 1996 by her husband, to honor Jay McGillis, a former Boston College player who was diagnosed and died from leukemia.
Judy Coughlin's daughter Keli also serves as the executive director. Daughter, Katie –who is married to former NY Giants player, Chris Snee –works with children being treated for cancer while sons, Brian works as the associate vice president for student development at Notre Dame; and Tim, who is a bond trader for J.P. Morgan.