Meet Diane Donahue Philbin
Diane Donahue Philbin is the wife of 54-year-old American football coach, Joseph "Joe" Philbin. We can't imagine how Diane must be feeling following the news of her husband getting the boot!
It is definitely not a good start of the week for the former Miami Dolphins coach, who was fired on Monday after a 1-3 start to the season, reports say.
Following The Dolphins current three-game losing streak, Philbin met with Ross on Sunday in London and said afterward that he was confident in his job security. Ross, however, didn't share the same thought once the team returned to the United States.
What do you think Diane Donahue Philbin reaction will be? Want to know more? Read below what we know about her!
Diane Marie Donahue became Mrs. Philbin in 1988. She and her husband became the parents of six children: five sons and one daughter. Diane and her hubby however, suffered a terrible loss when in 2012, their son, 21-year-old Michael Philbin's body was recovered from from the Fox River in Oshkosh. At the time it was reported, Michael had been under the influence of alcohol.
Diane Donahue Philbin's surviving children are, sons: Matthew, John, Kevin, Timothy and daughter Colleen Philbin.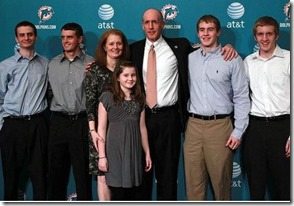 Like a true NFL coach wife, Diane Donahue Philbin, is an active member of the Miami Dolphins Women's Organization and Miami Dolphins Foundation that continue to positively impact the community. She is a passionate advocate for military service men and women and their children. The devoted wife and mother is also involved in enhancing the educational and recreational experience for children in the area through Play 60 & Student of the Week
On top of everything else, she is a supporter Lauren's Kids & Kristi House both organizations strive to provide support and raise awareness of childhood sexual abuse.
Last May, she was honored by the Boys and Girls Club as one of the 100 Outstanding Women of Broward County.
Most recently Diane Donahue Philbin helped distribute fresh food to individuals and families from the Allapattah Community Center in need of food assistance;  in recognition f Hunger Action Month, Bank of America and the Miami Dolphins partnered with Feeding South Florida, and rolled up their sleeves to help end hunger in Miami-Dade County.
As we can see, Diane is heavily involved with the team as well; the good news is, her hubby received a contract extension earlier this year that will pay him through the 2016 season.
Dolphins tight ends coach Dan Campbell will serve as Miami's interim head coach for the remainder of the season.