Among the '80s pro wrestlers,  there was more than one "Nature Boy" one was, of course, Ric Flair. The other was William Ansor, aka "Nature Boy" Buddy Landel. Sadly, Landel passed away on June 22 at the age of 53.
He made his in-ring debut in 1979, performing in regional promotions before signing in 1985 with the NWA's Jim Crockett Promotions. With flowing blond locks, glittering robes and WWE Hall of Famer J.J. Dillon in his corner, Landel set his sights on then-NWA World Champion "Nature Boy" Ric Flair. Though he left Crockett Promotions by the end of the year, Landel left his mark, defeating Terry Taylor at Starrcade 1985 to capture the NWA National Championship.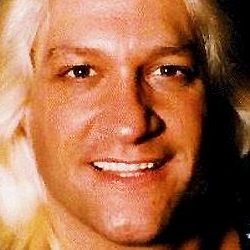 Landel is survived by wife Donna and one daughter, though he originally fathered two daughters.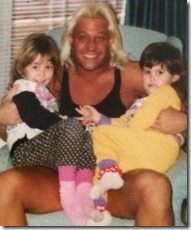 We've learned the former wrestler made headlines last December after Former WWE Pro Wrestling Diva, Terri Runnels made public one of Buddy's daughters had an infection and was in a bad shape.
Terri posted on her Facebook page:
An old wrestling pal and dear friend of mine, Buddy Landel is asking for prayers for his daughter Kolby. She had a staph infection spread throughout her body which affected her heart valve which affected her brain via a clot that went to her brain…while I don't have every medical detail, the end result is that she had a stroke and is paralyzed on the right side of her body. Kolby has a 10 year old son. Please lift this family up in prayer! Thank you, Terri
It  is also through Terri that we learned Buddy's and Donna's daughter Kolby, passed away.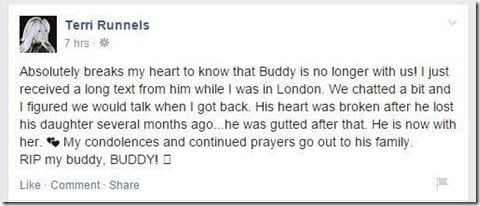 64-year-old Donna and Bubby were married for 34-years, the couple tied the knot in 1981 and became parents to daughters Kolby and Celeste. Kolby sadly lost her life but left behind a young son –whom Donna and Buddy helped raised.
Donna and Buddy's surviving daughter Celeste, is married to Daniel Robbins and goes by Celeste Robbins on Facebook.
Donna –who was born May 11, 1951 –found her husband unresponsive in their home days after being involved in a car accident, reports say. Landel certainly lived a colorful life in the pro wrestling world, setting records, holding numerous titles in multiple promotions, and once challenging for the WWF title.
We send his family our condolences.