Milany Rosario is the pretty and incredible wife of MLB player Eddie Rosario; the Puerto Rican left fielder currently signed by the Atlanta Braves who previously played for the Cleveland Indians and the Minnesota Twins. Eddie Rosario also played with the Puerto Rican National Baseball Team that won two silver medals at the World Baseball Classic in the United States.
Eddie Rosario Parents
Eddie Rosario was born in Guayama, Puerto Rico, on November 28, 1991, one of the children born to Ana Maria Haddock Vazquez and Eddie Rosario Senior. They both worked long hours in the fast-food industry but always found the time to attend Eddie's games.
"Our son has always had a lot of heart, even as a little boy, and that's one thing you can say about him," Eddie Sr. said. "He has confidence. He works hard, and he never gives up on anything."
Eddie Rosario Sr and his wife Maria were pretty ecstatic after Eddie was named NLCS MVP.
"Special, something special that he always wanted, you know like a baseball player yo know do dream about this; it's very emotional for him, for us, for his wife, his kids, you know being part of a good team, Wow! I got no words"Eddie Sr. commented.
In addition to Eddie, Maria and Eddie Rosario Sr. had two more sons, Kevin and Gabriel Rosario,
Eddie Rosario MLB Career Timeline
Eddie started playing baseball at an early age and later while he attended Rafael Lopez Landron High School in his hometown.
The Minnesota Twins selected him in the fourth round (135th overall) during the 2010 MLB draft.
Eddie Rosario started his professional career in 2011, playing with the Elizabethton Twins.
He was subsequently promoted to the Beloit Snappers.
He represented Puerto Rico at the 2013 World Baseball Classic in San Francisco, winning the silver and winning their second silver medal at the 2017 World Baseball Classic in Los Angeles.
Rosario eventually made his MLB debut with the Twins on May 6, 2015, against the Oakland Athletics.
He signed with the Cleveland Indians on February 4, 2021.
Cleveland later traded Eddie Rosario to the Atlanta Braves on July 30, 2021, in exchange for Pablo Sandoval.
Eddie Rosario MLB Awards and Career Highlights
In 2015 became the AL Triples Leader (15), with 16 outfield assists.
On June 13, 2017, he hit his first career three-home run game.
Eddie recorded two walk-off wins in the first two games of a postseason series on October  17, 2021.
On October 21, 2021, Rosario recorded two home runs and a triple as part of a second four-hit game in Game 4 against the Dodgers.
Eddie Rosario and the Atlanta Braves defeated the Dodgers in Game 6; he was awarded NLCS Most Valuable Player.
Eddie Rosario Net Worth
Eddie Rosario's net worth has been estimated at $4 million. Eddie is playing with the Braves under a one-year contract he initially signed with the Cleveland Indians in July 2021.
Eddie Rosario Contract & Salary
Eddie Rosario has an annual salary of  $5,204,285. He agreed to a one-year, $8 million contract with the Indians on February 4, 2021. According to Spotrac, Eddie Rosario's contract and salary  history go as follows:
In 2010, he received $200,000 in signing bonus from the Minnesota Twins.
Had a base salary of $507,500 in 2015 with the Twins.
That number increased to $542,000 in 2016 and $552,000 in 2017.
In 2018, Eddie Rosario earned an annual salary of  $602,500.
He signed a one-year, $4,190,000 contract extension with the Twins in 2019.
Rosario agreed to another extension worth  $7,750,000 for another year in 2020.
Eddie Rosario Jersey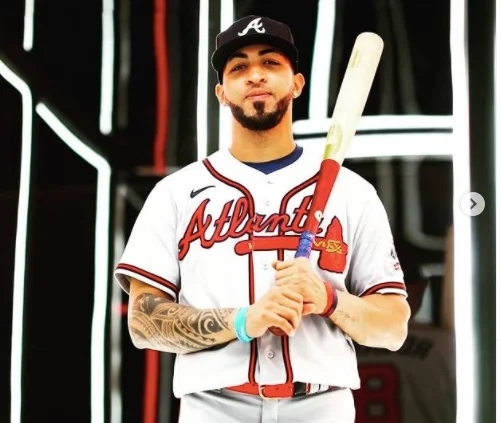 Atlanta Braves fans can get their hands on Eddie Rosario's sweet jersey and other merchandise at the MLB Shop and Fanatics if you are interested in getting your Eddie Rosario's jersey personalized for $109.99.
Eddie Rosario Wife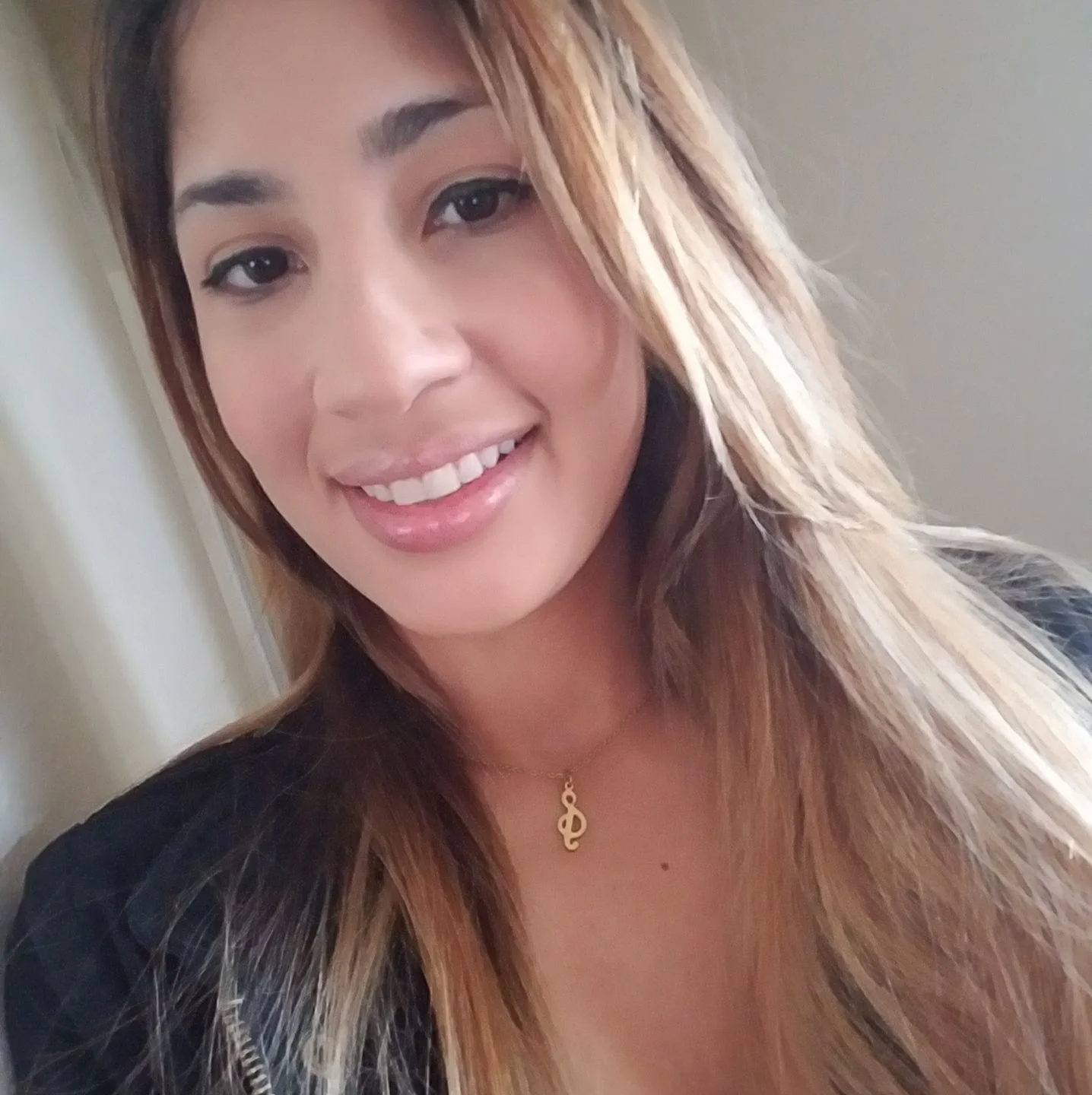 Milany Rosario
Eddie Rosario's pretty wife is Milany Rosario, formerly known as Milany Colon and born and raised in Guayama, Puerto Rico. Milany graduated in 2011 from Francisco A. Garcia Boyrie High School in Puerto Rico.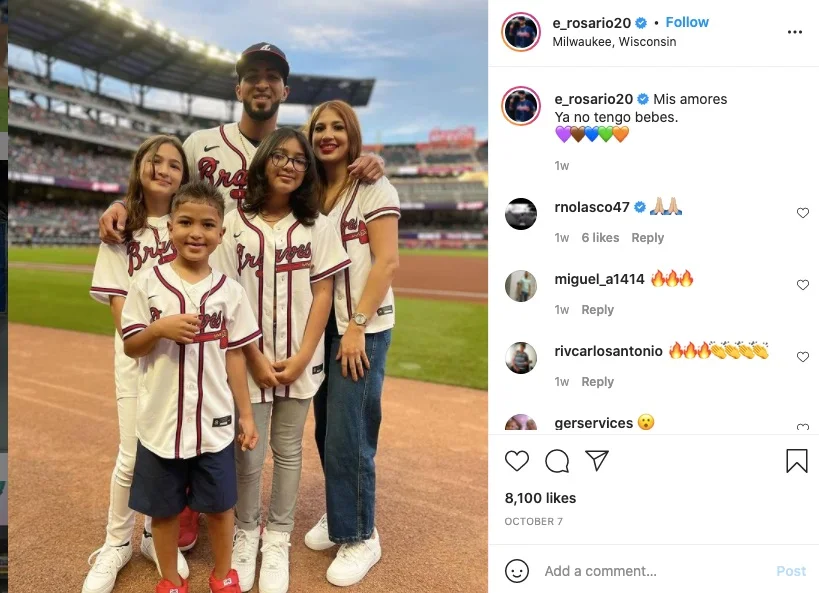 Eddie Rosario and his wife Milanygot married on March 25, 2017. They have since welcomed three beautiful and amazing children, daughters Mileiddy, Raydieliz, and son Lucas.