Elaina Watley
Elaina Watley is the longtime girlfriend of NFL player Victor Cruz, who is the wide receiver for the New York Giants. This young couple Elaina Watley and Victor Cruz have been together for over a decade and have a beautiful young daughter, Kennedy.
Elaina Maria Watley, 29, was born and raised in Passaic, New Jersey. She is the daughter of Mrs. Karen Washington Watley, 61,  and Rolando Watley, Elaina has three sisters and two brothers; her dad lives in Puerto Rico, while her mother is an elementary school teacher.
Having a mom who is also an educator helped Ms. Watley becoming an excellent student and graduated from Rutherford High School at 16. She graduated from Florida International University by the time she was twenty; she holds a double major of International Business and business relations and a minor in biology and chemistry.
Victor & Elaina
But this love story goes a little way further back. Elaina and Victor met at a mutual friend's party in 2003. He was still in high school at Paterson Catholic, and she was studying in college while doing an internship on Wall Street. They hit it off instantly. Soon they were discussing their hopes and dreams.
She has been encouraging to Victor all through their relationship. When he was kicked out of the University of Massachusetts for academic reasons after his sophomore year, she was with him when he received the letter. She helped him write a letter, read the school handbook with him and explained to him what he needed to do to raise his GPA.
"I've always been the one to step back, and be calm and look at things from a different perspective," she says, noting that Cruz was eventually reinstated to the school and the team.
It's no wonder Cruz calls her the backbone of his life. She also cooks for him, and color coordinates his clothes too. And by the way, she also gave birth on January 12, 2012, to their daughter Kennedy!!  A month later he and the New York Giants would win the 2012 Super Bowl.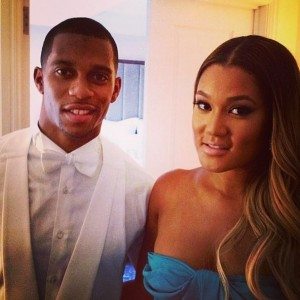 The question we are all asking is what is this great couple waiting for? Are they engaged yet? Victor says he's waiting for the right timing.
And Cruz found the time!!!, That's right he popped the question to his longtime girlfriend Elaina on July 13th, no wedding date yet.
You can follow Elaine Watley on Twitter here