Emmeli Lindkvist
Emmeli Lindkvist is the loving and supportive girlfriend of NHL player, Rickard Rakell. Her man is currently a player with the Anaheim Ducks.
Emmeli's NHL stud was born Rickard Lars Gunnar Roland Rakell on May 5, 1993. The Swedish player was raised in Sollentuna, Sweden. Prior to his NHL career he represented his country at the IIHF World U20 Championship three times.
Rickard spent three years with the Plymouth Whalers of the Ontario Hockey League. He was a first round pick of the Anaheim Ducks in the 2011 NHL Draft. He signed a three-year entry-level contract with Anaheim in July 2012, making his NHL debut in January 2013.
During the 2013-2014 season Rakell appeared in 22 games with the Ducks, including four playoff contests, and was one of the top scorers for Anaheim AHL affiliate Norfolk in his second pro season.
He recorded his first 20-goal season in 2015-2016. The 24-year-old is currently in his third full year as a pro.
Rakell has been in a relationship with gorgeous girlfriend, Emmeli Lindkvist for some time now.
Meet her below.
According to her social media the smiley blonde and sometimes brunette hails all the way from Skelleftea, Sweden and currently resides in Stockholm. She has an equally gorgeous sister named Lisa and three brothers Anton, Ulf and Magnus.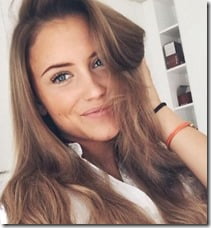 She currently works at Jackie Shops –a clothing store and previously worked at a fitness center, SATS from 2013 until 2014.
Emmeli Lindkvist played soccer during her high school years.
The blonde who exudes charm and positive vibes is into fitness and occasionally will practice sports such as golf.
According to her Instagram, she currently splits her time between her Sweden and California where her man currently lives.
She has clearly been a great source of support for the young player. Emmeli often shares little encouraging messages on social media telling Rakell












Im so proud of you, for who your are, what you have accomplished and for how you make me feel every day!












The 24-year-old leads the glam life of the regular NHL wag, she hangs out with friends, visits amusement parks, shops at all the top places –all while looking absolutely flawless.
You can follow Emmeli Lindkvist on Twitter here.