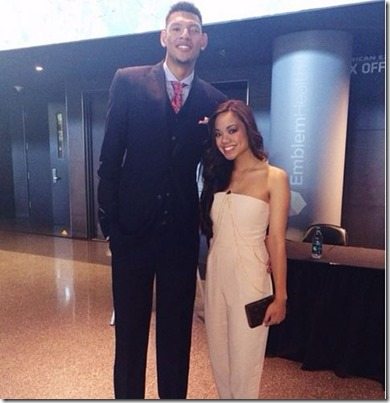 Meet Erika Santos, the pretty girlfriend of honorary draft pick Isaiah Austin. She and her boyfriend had an emotional night during the NBA Draft Thursday as the incredible moment where Baylor's former center became an honorary pick stopped being a dream and became a reality.
Erika's boyfriend, 20-year-old, former Center for the Baylor University Bears is an incredible young man, athlete and most importantly inspiration; so his chick makes for one pretty awesome gal in our book!
Erika who reaches her guy almost to his shoulders, is a petit and pretty girl, she might be small for her man but they seem like the perfect fit. She is a classy young girl, school oriented who comes from a loving family and that's how she instead of ditching her boyfriend following his Marfan Syndrome diagnose has learned to respect and care for him even more.
Below we can see a picture of her and her father, Frank Santos. She posted the snap on her dad's birthday to her Instagram account, captioned
Happiest of birthdays to the #1 man in my life. Beyond thankful for the absolute best/most caring/corniest dad in the world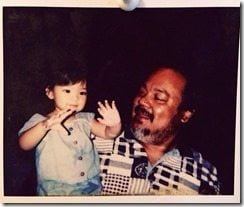 Santos is very close to her mom and dad. Her family is originally from Guam but she currently resides in Texas for school, she is also a student at Baylor University.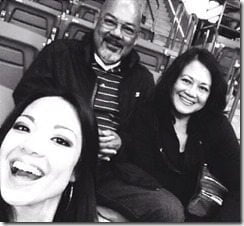 Erika has tons of pictures hanging out with friends, smiling and just having a good time specially with Austin. She enjoys the outdoors and practices tai chi.
Santos attended last night's NBA 2014 Draft, she and Isaiah probably weren't expecting the classy move by the NBA. Her man had been forced to prematurely give up his dream of professional basketball, but he was called up to the stage by commissioner Adam Silver while the crowd gave him a standing ovation, fulfilling his dream of getting drafted.
Ever since receiving the devastating news that would keep him from playing in the NBA, he has handled himself with unbelievable poise.
Others might fall apart in a similar position, but Austin has revealed his fantastic character by being so open and positive, this might be in great part to an incredible support system which includes his family and his lovely lady Erika. This what the basketballer said of her posting a picture of the two of them
I truly adore you. Your beauty. Your smile. Your laugh. Your touch. Your love. Your support. Your selflessness. Words can't express how thankful I am for you, Beautiful. I love you. I'm in love with you. You're my world
Her boyfriend has created a "Dream Again" campaign and launched a website where he is selling t-shirts in support of the Marfan Foundation. Awesome right!
And we have Miss Santos to thank for being there for him. Find her on Twitter here and on Instagram here.