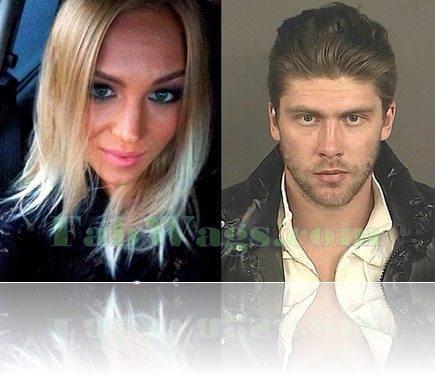 Avalanche goalie Semyon Varlamov was arrested in Denver on Domestic violence related charges, the person accusing Varlamov is his living girlfriend Eugenia Vavrinyuk who remains hospitalized for her injuries.
Semyon turned himself voluntarily to Denver police after an arrest warrant was issued for second degree kidnapping, a class 4 felony, and third degree assault, a class 1 misdemeanor," his girlfriend Eugenia told her attorney that this violent attack is one of the many attacked she  had had by the hand of the Russian hockey player.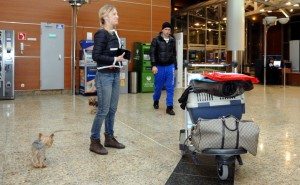 Eugenia Vavrinyuk told her attorney Robert Abrams she had enough of Semyon and that this time she wanted him behind bars, she told him that he spend most of Monday night drinking at his apartment in the Glass House Building in Denver, where on Tuesday he threw her in to the wall, she went to floor and then he was stomping on her and that's what caused the bruising and the damage.
"This time Eugenia Vavrinyuk said to us 'That's it, go lock him up,' " Abrams said. "This girl is 5-foot-3, 100-and-nothing pounds, he's 6-foot-2, a 210 pound professional athlete. This is a very sizeable force approaching you and this is terrifying."

Eugenia posted the following on here VK profile..

If a man raised his hand – he will repeat it. And no amount of persuasion and his oath should not dissuade women in it.Part with these men need not feel sorry for them! Giving men the last chance – it means to sign a verdict on repeat. "
24-year-old Eugenia Vavrinyuk  like her famous  goalie boyfriend was born on December 4, 1988 in Samara, Russia, she flew to the U.S from Russia to be with Semyon, they  had been having an on-again-off relationship for quite a while having rekindled their relationship just weeks prior to the attack.
Vavrinyuk a model stands at 5'3, weighting 100lbs with her measurements of 94-60-90, she has blond hair and green eyes.
Find Semyon Varlamov's GF Eugenia Vavrinyuk  on VK( Russian version of Facebook) here
Photo Credit: Fashionbank.ru