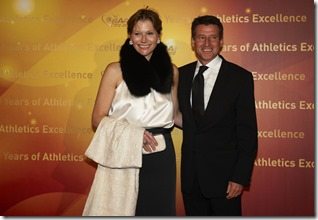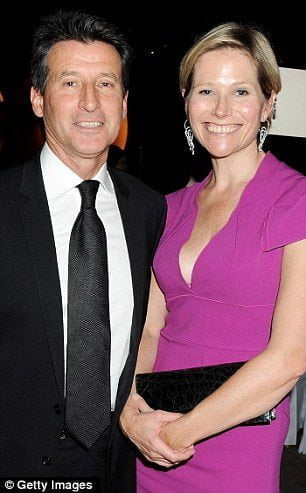 Meet 46-year-old Carole Annett formerly Smith, she is the daughter of former England cricket captain M.J.K Smith. The daughter of one of England's most popular cricket captains and as he also played rugby union Smith was England's last double international so to end up marrying a former athlete was just meant to be.
Carole or Lady Coe wed Sebastian Newbold Coe better known as Seb Coe and Lord Coe in 2011 during a secret ceremony, but although they tied the knot just two years ago they have known each other for over a decade.
Carole is the commercial retail editor for House and Garden magazine she and hubby are ten years apart, she was 44 when they said their vows in an intimate ceremony in 2011 and he was 54-years-old.
The father of four children by his first marriage to equestrienne Nicky McIrvine, Coe, kept the news of his second marriage to a very small circle of family and close friends. Harry, his eldest son, was best man at the "happy and relaxed affair."
The couple held a drinks reception in London to celebrate with a wider circle of friends, but deferred a honeymoon until a later date since the newly married man needed to attend the London 2012 Olympic equestrian test event at Greenwich.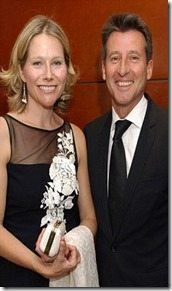 Annett had been in a relationship with Coe for more than eight years before making it official. She began dating Coe in 2003, he divorced his first wife and mother of his children in 2002 but Annett was still married; the following year in 2004 she left her husband, marketing consultant Andy Annett whit whom she has to children, after 14 years of marriage to live with Coe.
Annett's former hubby said Lord Coe was a 'marriage wrecker' in 2004 for allegedly having a year-long affair with his wife. Coe denied the claims. Mr Annett was furious when his wife left him for the Olympic legend after 14 years of marriage. He said at the time
'He began an affair with my wife almost a year ago. I'm very angry. We have children. He ruined my marriage.'
The couple first moved at Lord Coe's £2million mansion in Tilford, Surrey but with his busy Chair of the British Olympic Association, CSM Sports & Entertainment and Olympic gold medalist schedule they move around quite a bit.
You can find Carole's LinkedIn here.
Don't miss her video below where she discusses upcoming trends.