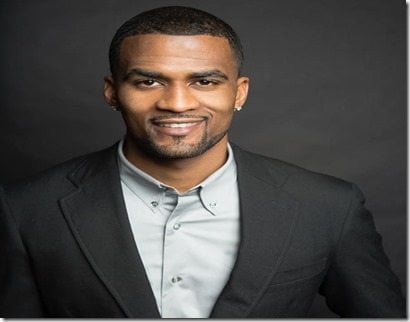 Talking about hitting rock bottom! Former NFL player turned model and actor. James Hardy III was arrested on felony charges following a dispute at his home in Los Angeles yesterday. The 28-year-old who was released due to injuries in 2011 was visibly drugged according to news outlets. Hardy attacked police officers responding to a disturbing the peace call.
The former wide receiver for the Buffalo Bills/ Baltimore Ravens was drafted in 2008 and later signed by the Baltimore Ravens before he was released.
Hardy who has a Bachelor's degree, General Studies/Criminal Justice from Indiana University –where he played basketball and football –played only 3 years in football, Hardy's career was cut short, short career maybe? But still managed to put his name out there. Voted by teammates Hardy received the Ed Block Courage Award which is given to the individual who display courage and toughness on and off the field through difficult times. Which is why we are surprised to see him behind bars!
According to thepro2u he has worked as a motivational speaker to high school students across the country; we sure hate to see him going through this!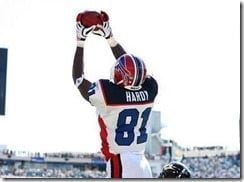 According to recent updates Hardy got violent and attacked at least 3 police officers but the reason for his odd and aggressive behavior is still unclear. Could there be a female involved? Unfortunately we hear all the time about players getting violent with their love interests, do you think is this the case? Does he even has a girlfriend?
In 2009 he was romantically linked to Lil' Wayne's baby momma Toya! You can see a picture of the alleged couple here.
According to his profile from the University of Indiana, the son of Jeanie Summerville was born on Dec. 24, 1985; he is 6-7 tall and weights 215. The two-time recipient of the Tiffany Gooden Award, given to the most outstanding male or female player in The Summit Athletic Conference as chosen by The Fort Wayne Journal-Gazette; led Fort Wayne Elmhurst to a Class AAA state runner-up finish in 2002-03 after averaging 23 points, nine rebounds and four assists.
According to his LinkedIn profile he is currently a model for Sports & Lifestyle Model @ Sports + Lifestyle Unlimited a 20-year-old agency focused on supplying models who represent an active lifestyle. It has offices in Los Angeles and Portland, Ore., and works with print, broadcast commercials, TV and film projects and more.
During an interview from last year he said
"This is difficult because all I've known are football and basketball," "For the first time in my life, I can't use my body to get ahead. So it's different. I have to evaluate myself, see what I can do to be great at. I'll take this entire year to focus on my craft."
We just can't kick a brother when he is down, we hope he gets out of this one and has some loving support waiting for him!