Frank Gifford
We are saddened to hear about the passing of NFL great, Frank Gifford. The hall of famer and former New York Giant turned journalist, died Sunday of natural causes according to a family statement. He was 84.
In a statement released by NBC News on Sunday, his family said Gifford died suddenly at his Connecticut home.
Born in 1930, the California native attended the University of Southern California on a football scholarship and went pro after being selected 11th overall in the first round of the 1952 draft. He spent his entire NFL career with the NY Giants, both as a Halfback and Wide Receiver.
Gifford went to five NFL title games in the 1950s and '60s, becoming the NFL's Most Valuable Player in 1956, when he led the Giants on their title run.
After retiring in 1964, Gifford went on to become a sports commentator. In 1971, he worked for ABC's Monday Night Football, at first as a play-by-play announcer and then as an analyst. In 1975 he was inducted into the Pro Football Hall of Fame.
The NFL legend and veteran sports journalist is survived by his wife Kathie Lee as well as their two children, and three from a previous marriage. Read more about his beloved family below.
Wives
Frank Gifford was married three times. His first wife, Maxine Avis Ewart, was USC homecoming queen who, after becoming pregnant in the early 1950s eloped with Gifford and married in Las Vegas. Before their divorce, they had three children, sons Jeff and Kyle, and a daughter, Victoria.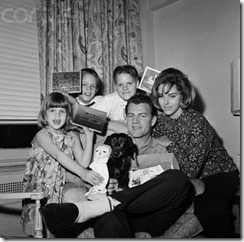 In 1978 Gifford married second wife,  Astrid Narss; that marriage ended in divorce in 1986.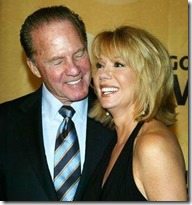 On October 18, 1986, Gifford married for a third and last time, to talk show host Kathie Lee Epstein Johnson. The couple was 23-years apart and became parents of two children: 25-year-old son Cody, and 22-year-old daughter Cassidy.
Kathie Lee Epstein was born on August 16, 1953, in Paris, France. She is best known as the female host in the hit duo with co-anchor Regis Philbin on 'The Morning Show.'
She joined The Morning Show in 1985, and the TV show became an instant hit for the hosts chemistry. She now co-hosts the Today show with Hoda Kotb.
Children
63-year-old Jeffrey Scot Gifford, Frank's older son, is a successful home builder in Las Vegas; according to his Facebook page he is currently married and resides in Boulder City, Nevada.
Frank's and first wife younger son, Kyle, who was seriously injured in a car accident several years ago and is now 60-years-old, works in New York.
Victoria Denise Gifford, Frank's only daughter from his first wife, was born on 20 February 1957. She married Michael Kennedy, a son of Robert F. Kennedy, in 1981. They were married till Michael's death in 1997 and produced three children: Michael, Kyle and Rory Kennedy.
Victoria attended Tulane Law School and Newcomb College, she has worked at the U.S. Department of Veterans Affairs, Edward M. Kennedy Institute for The United State Senate, UMass Boston among other institutions.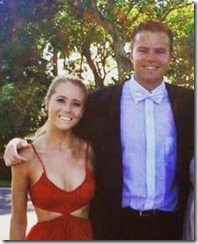 Cody Gifford, the first child of Frank and Kathie, was born March 22, 1990. The 25-year-old is described as a writer, film and TV producer. According to IMDb, he graduated Magna Laude from the University of Southern California School of Cinematic Arts, where he played Division I Football. He is also on the Advisory Board at Tate Technology LLC.
Cassidy, the youngest child of Frank and Kathie, was born August 2, 1993. The blonde, who is also an actress, is currently in a relationship with Addison Pierce. Cassidy's acting includes roles in the 2011 film, "Serial Buddies" and most recently "The Gallows."
According to her Facebook page, she currently resides in L.A and goes to USC.
Our condolences to the family.