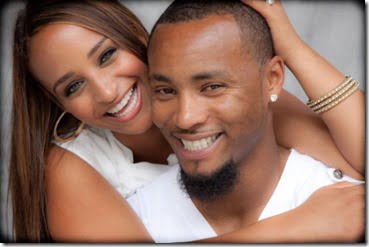 Let's meet and talk about beautiful wife and mother of two Giovanni Fortes! I know, not your common name for a chick; she is the gorgeous green eye wife of Miami Heat baller Rashard Lewis! Ok, now here we have the example of a patient woman! The couple was together for about 11 long years before someone had the …courage to propose! The couple has two children together, son Rashard Jr. and daughter Gianna.
They met while Giovanni was at college in Seattle (where she joined Zeta Phi Beta Sorority in 2001) and Rashard played for the Seattle Supersonics.
In June 2011 Rashard finally popped the question to his then girlfriend and mother of his children. He actually had the awesome gesture of flying Fortes and 25 of her bridesmaids out to Vegas for her bachelorette party, it was the least he could do right! Giovanni's hubby has been in the league for a starling 15 years! His contract while he played for the Orlando Magic was for $118 million! So he obviously had the resources but what was keeping him from the "I do"?? Well rumors of Lewis cheating on Giovanni surfaced that made him seemed a player on and off the court!
The couples gorgeous engagement pictures were taken in the couple's native Houston, TX while their wedding took place in a California Resort on August 13, 2011; their chic to casual wedding was completed with family, 250 guest and of course their two kiddos. The exact location of their wedding was in the beautiful Terranea Resort setting in Rancho Palos Verdes.
The bride was seen in a gorgeous flowing ivory Vera Wang gown while walking down the aisle to Alicia Keys' "Never Felt This Way."  And for the black and white themed nuptials, the couple's son performed his duties as ring bearer and their little girl was awesome on her flower girl stand.
Whatever issues they were having it appears everything was left in the past. Smart move on Giovanni, you know what they say "anything worth having, is definitely worth waiting"
You can see the family of four on Facebook here.