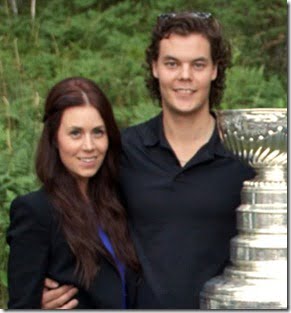 Boston Bruins Tuukka Rask features on this week's cover of Sports Illustrated magazine. On Wednesday before Game 3 of the Eastern Conference finals, he was hit by Shawn Thornton and fell to the ice in pain and then yelled. Rask was taken to the bench area where he rested and recovered before returning to the practice.
"He's fine," Coach Claude Julien said. "Just didn't want him falling in front of that door when he went out of his crease. I told him, 'You're making me look bad.' I said, 'I told everybody you were normal.' But I said, 'I did tell them you had a temper.' So I said, 'You're okay.' No issues."
The stud player is dating Jasmiina Nikkila. She is from Tampere, Finland and now lives in Boston, the same path Rask took. Nikkila often comes to Boston full season with Tuukka and returns to Finland with him in the summer.
Reportedly, Nikkila and Rask have been dating since high school but it is not confirmed. But we sure know the couple have been together for quite some time, as she toured with him the Lord Stanley's Cup.
Jasmiina Nikkila speaks English but with a thick Finnish accent. She has been active with the other Bruins player's WAGs at charity events.  Nikkila is best friends with her boyfriend's coach daughter, Raina Julien, also named Raina Anastasia Lucic.
Find Jasmiina Nikkila's profile on Facebook here.