NHL player Patrick Kane, has allegedly gotten himself in major trouble involving a cheerleader who is accusing him! Her name was revealed to us by an unnamed source as Hayley Pandolfi; and this is what we can tell you about her.
There are rumors surfacing, the NHL star who currently plays for the Chicago Blackhawks as a right winger, is being investigated after the victim accuse him of rape last week.
Hayley Pandolfi, whose name hasn't been released officially but has been circulating all over social media, said she and Kane spent some time at a nightclub in downtown Buffalo, she later accompanied him to this home where the rape took place.
According to the Buffalo News, Hayley Pandolfi, was allegedly  invited by Kane along her female friend to his home for a private party after they met him last Saturday night at SkyBar, a popular nightclub on Franklin Street.
Sources close to the case, said that Hayley Pandolfi had bite marks on her shoulders and a scratch on her leg after the alleged attack.
Hayley Pandolfi has accused the hockey superstar of rape, says after she and her friend arrived at his home, she roamed into another room where he allegedly overpowered her and abused her. Next, she and her friend left his home and she called a relative who took her to the hospital to get examined. Police was called.
After the alleged episode, a close friend described the victim (Hayley Pandolfi) as frantic and traumatized over what had happened.
According to Sports Mockery,Hayley Pandolfi is a former cheerleader from the University of Buffalo. She's in her 20's, and is a recent graduate from college. Though the website says it has no evidence of the facts given and are reporting it strictly as a rumor, they also hold information regarding her social media accounts as well as her name.
They spoke with someone who allegedly is close to Hayley Pandolfi, the source revealed it was possible that Hayley was taking molly before arriving to the bar, the source said she (Hayley) had never met Kane before that night.
It apparently all comes down to the money factor, the outlets also says no one wants the case to go to trial and she is looking for a $1-$2 million settlement from Kane.
Aging, the info provided is all rumors, and Fabwags cannot confirm the veracity of the details at this time.
Things turned nasty in Hayley Pandolfi and Patrick Kane's rape case after her rape case was stolen and delivered to her mom's house. Her attorney
Thomas Eoannou announced the ripped and empty evidence bag with her client's name, birthdate and the nurse's initials and that once contained Hayley Pandolfi's rape kit was left at her mom's doorstep and that she found it around 1:30 p.m Tuesday, September 22.
Eonnaou began to have doubts about the mother's account. Therefore he was ethically obligated to withdraw from the case.
"I do not believe the way in which it was explained to me was the manner in which it was found," he said, wearing a black pinstripe suit and speaking from the same location as the previous day. "I have looked into that and I do not have confidence in that version of the events."
Ms. Pandolfi's rape kit, did not show results for Patrick Kane's DNA below her waist. However, the lack of DNA doesn't let Kane off the hook, just yet.
"The absence of DNA and , in itself, does not prove that there was no rape," Florina Altshiler, said a Buffalo attorney who worked as a -crimes prosecutor in Alaska "It proves that there was no , or possibly, that the perpetrator wore a condom."
Kane's DNA was allegedly found under Hayley's fingernails and shoulders.
"It could still be a serious matter for Kane, possibly some sort of assault or sexual misconduct, but that would probably be much less serious than a rape."
Hayley Landolfi now represented by Attorney Rolan M. Cercone will cooperate with the investigation.
If Hayley Pandolfi is indeed the woman accusing Kane of rape, then what do we know about her?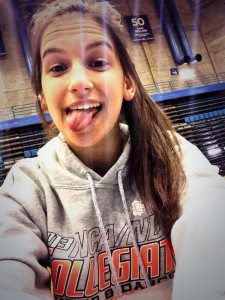 21-year-old Hayley M. Pandolfi born in Rochester, New York  an Amherst High School graduate is a psychology student at the University of Buffalo, where she is also president of the cheerleading squad.
Hayley is the youngest daughter of Dina Knowles  and Robert Pandolfi. Hayley has two brothers Paul and Jesse and sister Ashley.
More photos below, obviously all of Hayley Pandolfi's social media accounts were deleted.
Read: Patrick Kane Girlfriend Amanda Grahovec