40-year-old Jennifer McDaniel, the wife of Terry Gene Bollea who you might know as Hulk Hogan might be facing some hard times at home calming down her man. Her hubby is making headlines after racist comment are heard coming from his mouth on a new released audio!
Reports say the audio transcript features him making racist slurs about his daughter Brooke's love life. According to People he said on a statement:
"Eight years ago I used offensive language during a conversation. It was unacceptable for me to have used that offensive language; there is no excuse for it; and I apologize for having done it,"
As a result, the 61-year-old was scrubbed from the WWE's website. He was also removed from the online Hall of Fame. His lawyer David Houston confirmed to PEOPLE that he's officially resigned from the organization.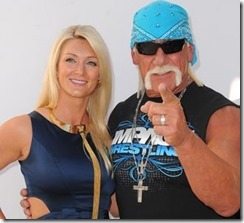 The couple has been in a relationship with Jennifer since 2008, after dating for a few months the two became engaged in November 2009 and tied the knot in 2010. The couple who is 21-years apart suffered a major blow in 2012 when a tape staring her hubby and Heather Clem was leaked to media outlets. At the time lovely Jennifer stood by her man.
Jennifer's hubby separated from from ex-wife Linda Bollea in 2007. The separation made world headlines with accusations of both physical abuse and affairs by both parties. Hogan then said he felt depressed following his separation but felt betrayed after his friend and partner Bubba the Love Sponge filmed him having .
The star's legal team filed a $100 million lawsuit against the site Gawker after the site posted the tape, made in 2008.
Jennifer and Hogan tied the knot at his Clearwater, Florida, home in 2010. It was a small wedding with only family and close friends invited, including Hulk's two children from his first marriage to Linda Claridge – Brooke, 27 and Nick, 25.
Will Mrs. Bollea stay by her hubby's side?