Meet Andrea Vannier!
The lovely Andrea Vannier a Wag is  French Cyclist Thibaut Pinoit's girlfriend, she is no stranger to the spotlight and to the world of cycling.  We would love to know more about this stunning girl who is by her man's side at this year's Tour de France, would you like to meet her? are you ready?
Born in Melisey, Haute-Saone Thibaut Pinot, 25, became the youngest rider at the 2012 Tour de France  at the age of 22 when he won Stage 10. He wasn't so lucky the following year when he was forced to leave the Tour de France at stage 16, but 2015 turned to be so much better when he won Stage 20 at the Tour de France. This is what he said after finishing the stage.
"For the French Alpe d'Huez is one of the pinnacles of cycling and the most beautiful stage to win," said the winner himself of the white jersey in 2012.

"I had a lot of bad luck but also some good days this year, and I had to fight hard for my stage win. It's so emotional to have won such an iconic stage. It's so special and I'll remember this forever."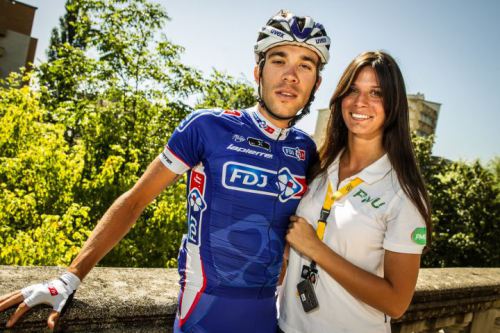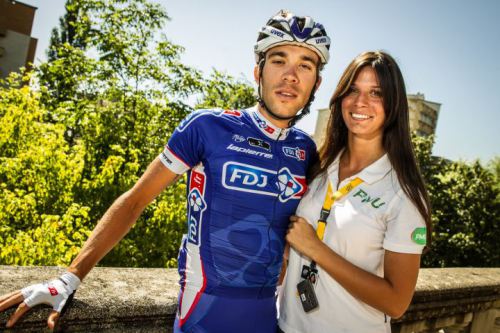 22-year-old Pinot is a member of UCI Pro Team FDJ won the Young Classification Rider, who has been dating 23-year-old Andrea Vannier for a couple of years.
5'9" Ms. Andrea Vannier a pharmacist student from Pelousey was crowned the 2011 Miss Franche-Comté. She competed in the 2012 Miss France Beauty pageant, she didn't win though Miss Alsace  Delphine Wespiser won the title.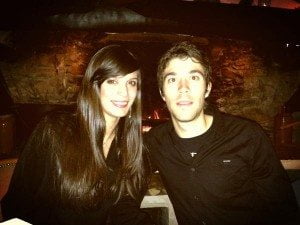 Pinot started dating Andrea Vannier in 2012, whose father  was also a cyclist and probably what motivated Andrea to become a Tour hostess. I wonder if they are still together, they do make a hot couple. Don't you agree?