Who is Hunter Henry's Wife?
Meet pretty Parker Henry formerly known as Parker Kennedy Schmidly; she is the drop-dead gorgeous wife of NFL player Hunter Henry, the outstanding  6'5 tight end currently playing for the New England Patriots. Henry played football at Pulaski Academy and the University of Arkansas.
Hunter Henry Parents & Siblings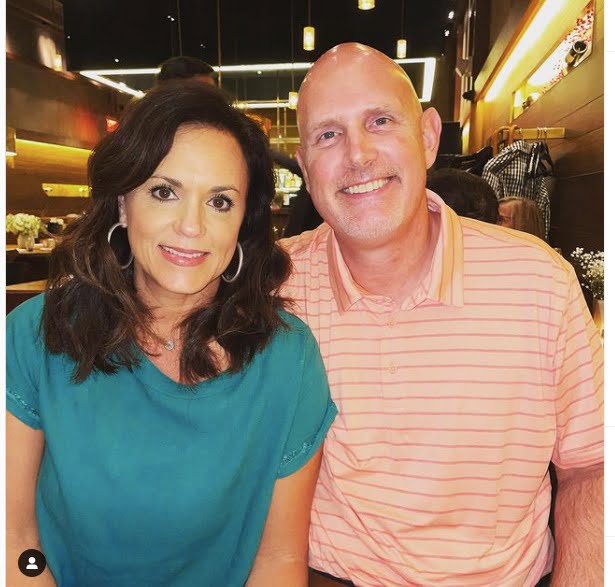 Hunter Henry was born on December 7, 1994, in Little Rock, Arkansas. He is one of four children born to Jenny and Mark Henry, both of them attended the University of Arkansas, Mark played offensive lineman for the Arkansas Razorbacks.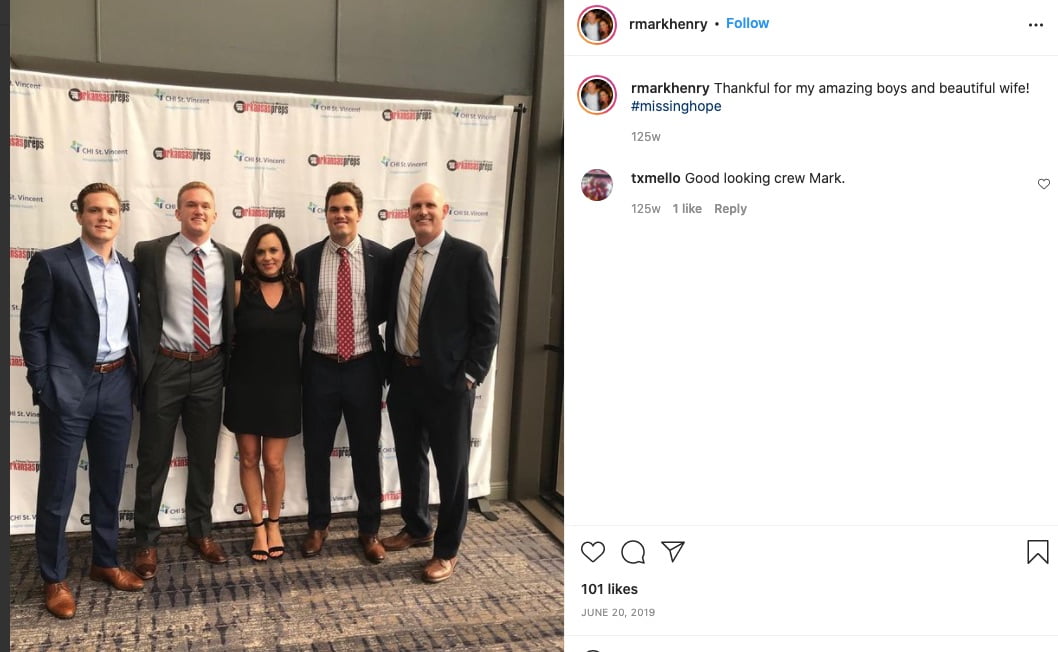 Hunter's brothers Hayden and Hudson played college football for the Arkansas Razorbacks Hayden was a linebacker and Hudson a tight end.
Hudson Henry will graduate from Arkansas in 2023 with a Bachelor's in business; he is an operations intern at J.B. Hunt Transport Services.
Hayden is working on his master's in Business and Financial Management.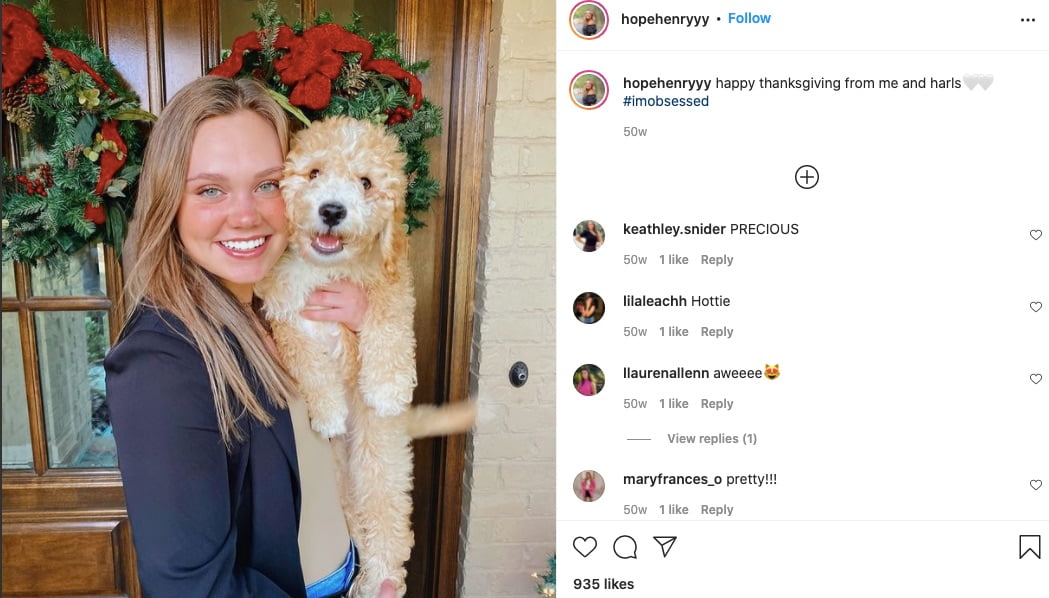 In addition to Hudson and Hayden, Hunter has one sister, Hope Henry a volleyball player at the Pulaski Academy.
Hunter Henry High School
Hunter played football for the Bruins at Pulaski Academy in Little Rock; he was starting player for four years, 2011State Champion, 2012-2013  Parade All-American, captain for the Under Armour All-America Game his senior year, Max Oreps second-team All-American, 247Sports first-team All-American.
Henry recorded 45 passes for 748 yards and 10 touchdowns and  30 tackles his sophomore year.
In his junior year, he caught 64 passes for 1,093 yards and 16 touchdowns.
He caught 107 passes for 1,449 yards and 15 touchdowns his senior year.
Hunter Henry College
2013 – caught 28 passes for 409 yards and four touchdowns. He was named to the Mackey Award Midseason Watch List, SEC All-Freshman Team, earned second-team All-SEC acclaim and Freshman All-America honors.
2014 – caught 37 passes for 513 yards and two touchdowns. He was selected to the Coaches All-SEC second team and an AP All-SEC honorable mention, named to the CFPA Tight End Award and John Mackey Award Watch List, and was selected All-SEC second team by Phil Steele, Athlon.
2015 – caught 51 passes for 739 yards and three touchdowns. Henry was selected into the USA Today First Team All-American, Coaches First Team All-SEC, John Mackey Award Winner, ESPN.com All-SEC Team, ESPN.com All-American Team, Walter Camp First Team All-American, Sports Illustrated Second Team All-American, Associated Press First Team All-American, Associated Press First Team All-SEC, Athlon All-SEC First Team, Sporting News First Team All-American, AFCA All-American.
He announced he would forgo his final year of college eligibility and enter the draft on January 4, 2016.
Hunter Henry NFL Career Timeline
On April 29, 2016, The San Diego Chargers selected Hunter in the second round (35th overall) in the 2016 NFL draft.
On June 2, 2016, he signed his rookie-level contract with the Chargers.
On December. 29, 2016, he was named the chargers' third tight end.
He eventually made his NFL debut against the Kansas City Chiefs on September 11, 2016.
Finished the 2016 season catching 36 passes for 478 yards and eight touchdowns in 15 games, he started in 10.
He suffered a leg injury in Week 15, against the Chiefs.
On December 19, 2017, Henry was placed on injured reserved after suffering a lacerated kidney.
Finished the 2017 season with 45 receptions for 579 yards and four touchdowns.
He suffered a torn ACL on May 22, 2018, and was ruled out for the rest of the season.
On January 7, 2019, was added to the Chargers' roster.
Hunter Henry was out for several games after he suffered a tibia plateau fracture to his left knee on September 11, 2019.
He returned to the team in Week 6 against the Steelers.
He finished the 2019 season with 55 receptions for 652 passes and eight touchdowns.
On March 13, 2020, the Chargers placed the franchise tag on him;  singing the tag on April 16.
On December 24, 2020, he was placed on the reserve/COVID-19 List.
Activated to the team on January 7, 2021.
He signed with the New England Patriots on March 19, 2021.
Hunter Henry Contract & Salary
Hunter Henry's average salary is $12,500,000, a cap hit of $6.88. He signed a three-year, $37,500,000 contract with the New England Patriots in March 2021, his deal included a $15 million signing bonus, a $25,000,000 guarantee.
Hunter Henry Net Worth
According to Over the Cap, Hunter Henry has a net worth estimated at $25 million. In addition to his NFL contract, Hunter Henry earns a couple of million from his endorsement deals with Hugo Boss, Cox, Courtyard Hotels, JC Penney, New Era Cap, Vital Proteins, and Fanzz.
Hunter Henry Wife
Hunter Henry's beautiful wife is Parker Henry. These two met at Lake Ouachita, before their freshman year at the University of Arkansas. They got engaged on July 21, 2017, after three years of dating Hunter popped the question at Donald W. Reynolds Razorback Stadium.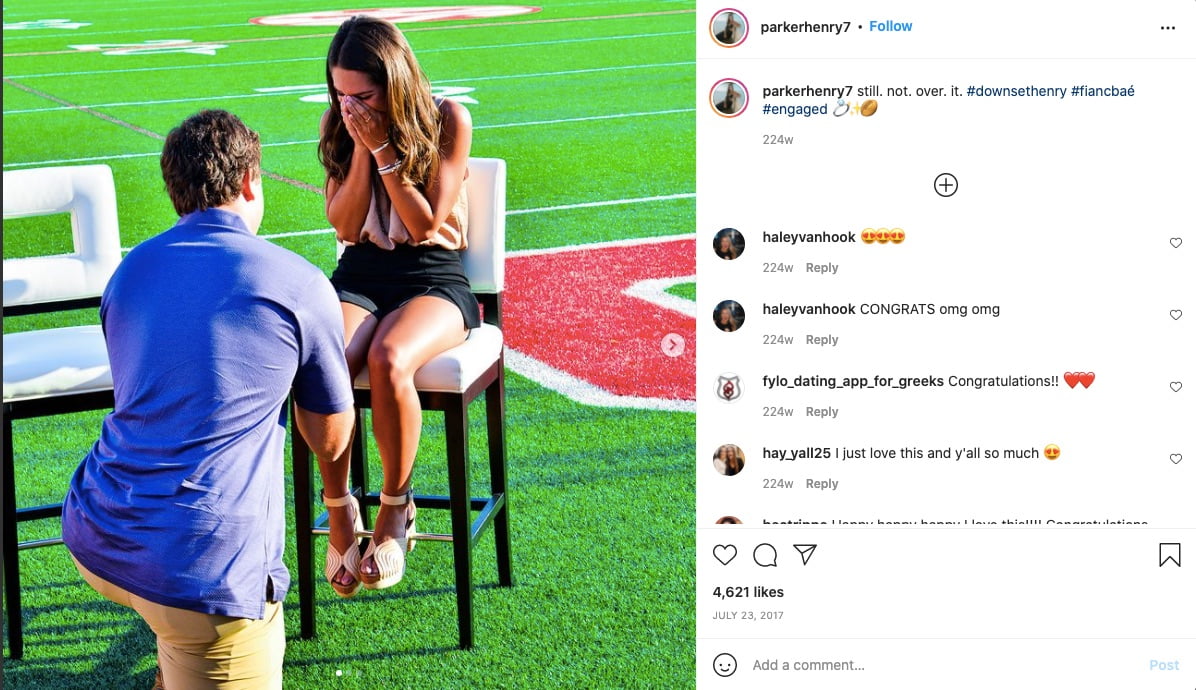 "After Hunter proposed and I quickly said yes, Hunter had a party planned with all of our closest family and friends for us to celebrate," Parker says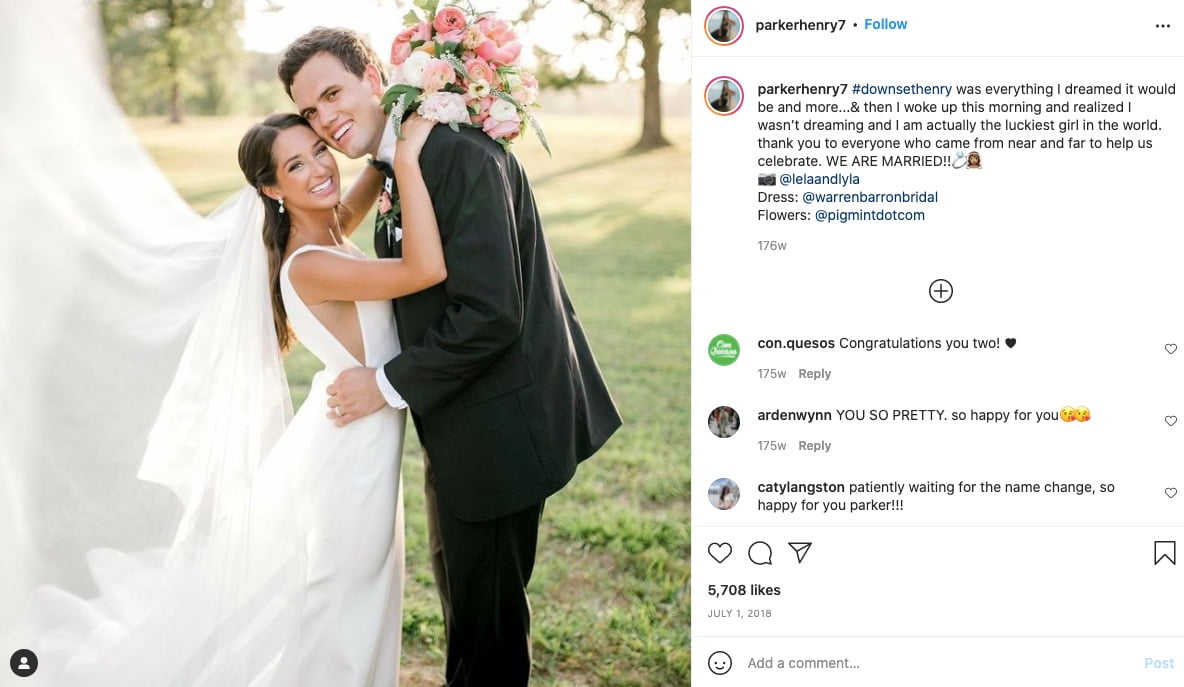 They got married on June 30, 2018. Parker and Henry announced they are expecting their first child together on June 21, 2021.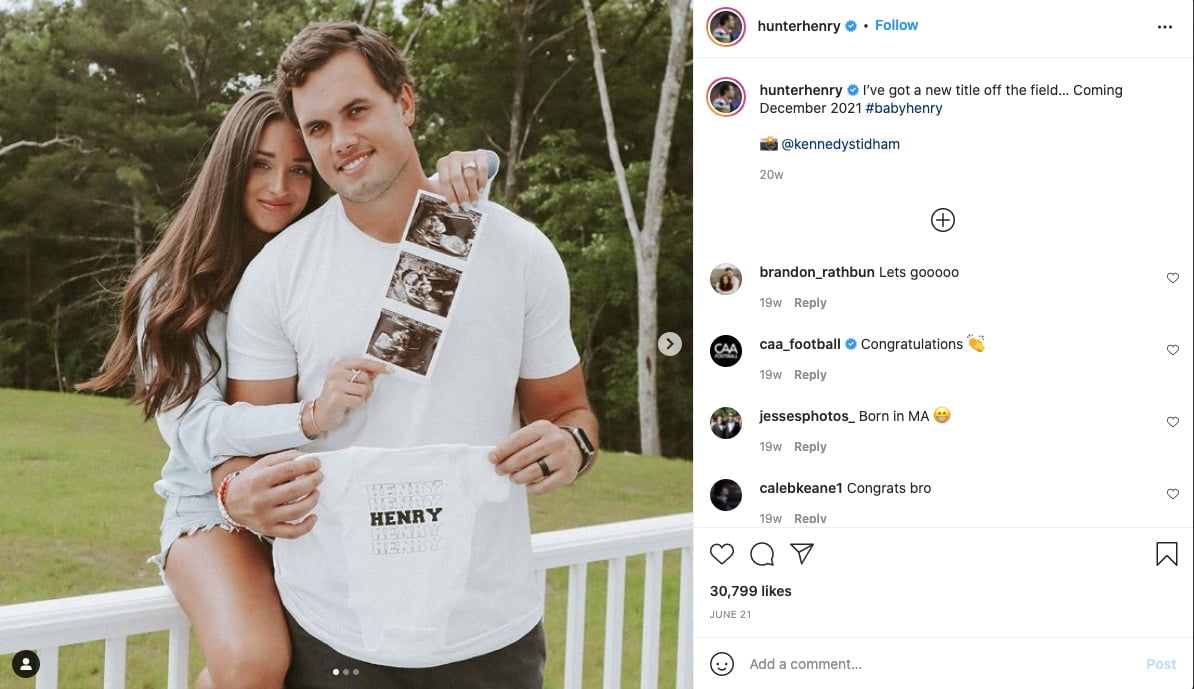 Parker Henry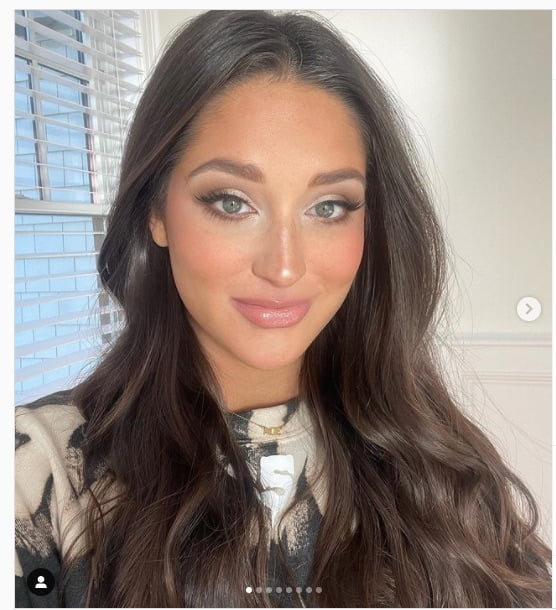 Parker Henry was born Parker Elizabeth Schmidly on July 14, 1996, in Fort Smith, Arkansas; she is one of two children born to Heidi (nee. Graves) and Shannon Schmidly, Parker has one brother Graves Schmidly, who graduated from the University of Arkansas in 2021, and is a risk management advisor at BHC Insurance.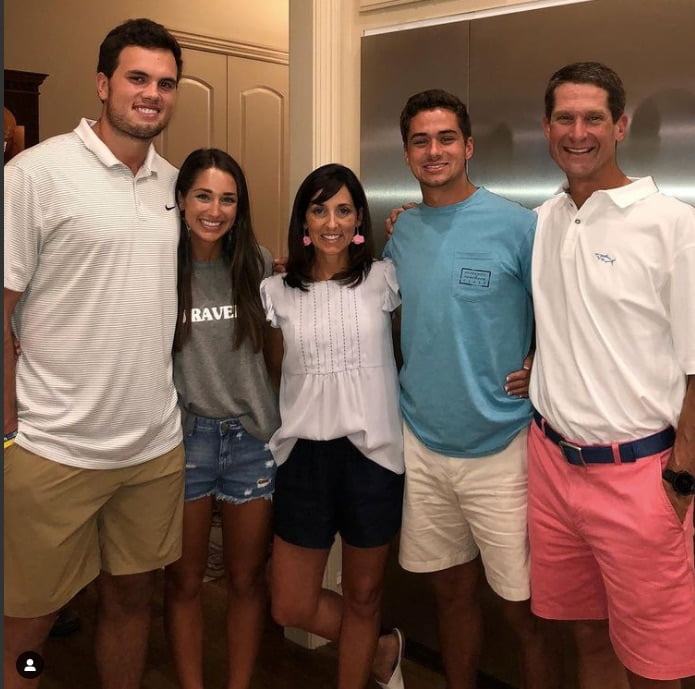 Parker Henry graduated with a nursing degree from the University of Arkansas; she is a registered nurse at Orange County Global Medical Center.