Tomasz Swiatek
Meet Tomasz Swiatek; the former Olympic rower from Poland and proud father of Polish tennis player Iga Swiatek, who reached a career-high ATP singles ranking of No. 1, achieved on April 4, 2022; Iga has won eight career titles, her best result at a Grand Slam tournament is reaching the finals of the 2022 French Open, against Coco Gauff.
Iga Swiątek Mother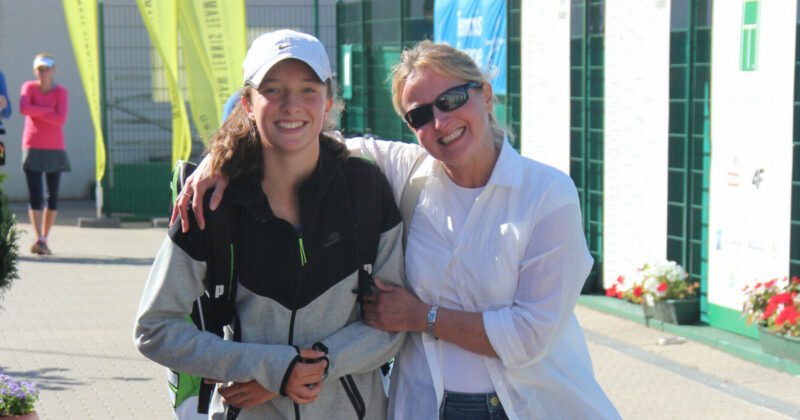 Dorota Swiatek
Not much is out there about Iga's mom Dorota Świątek, except that she is an orthodontist, and that she graduated from the Faculty of Dentistry, 1st Medical Faculty of Warsaw Medical University. Most of the time you'll see her dad sitting in her box; however, there was one time when Dorota was once interviewed.
My approach to her sport has always been: no matter what result you achieve, the most important thing is the style," she confessed then. Then she also revealed that she is not afraid of media interest in her daughter. – There is absolutely nothing wrong with igomania itself. Sport is democratic, because it shows how much you can achieve without wild cards and with your own work and determination
Dorota has been working at Formmed in Poland since 1991, as an assistant in the Department of Orthodontics at the Institute of Dentistry.
In 1993, Mrs. Swaitek got her a specialization with honors in the field of general dentistry and orthodontics at the Medical University of Warsaw; she also has been a long-term employee of the Institute of Mother and Child in Warsaw.
The knowledge and experience acquired during her long practice allows her to treat patients in the "Orthodontic care for children with congenital defects of the facial part of the skull", under which, initially with removable appliances and then with fixed appliances, the most complex cases of malocclusion are treated.
Iga Swiatek Father
6'3″ Tomasz Swiatek was born in Warsaw, Mazowieckie, Poland on July 26, 1964. He started competing for professionally while in college, participated and took the silver at the 1986  Summer Universiade and a gold medal the following year.
He was 24 when he first represented Poland at the 1988 Summer Olympics in Seoul and competed in the men's quadruple sculls events.
Iga Swiatek Sister
Agatha Swiatek
Iga is actually one of two daughters born to Tomaz and Dorota Swiatk, Iga's older sister is Agatha, who is a dentistry student at the Medical University of Lublin. Before studying dentistry, Agatha Swiatek tried swimming and tennis later on.
I did not exert any pressure, it was not that sport is the only way and if you fail, it is the end of the world. I just always adhered to the principle that practicing sport does not have to interfere with my life, and it can help a lot – said Tomasz Świątek
 I wanted Iga and Agata to train something, preferably an individual discipline, so that they themselves are responsible for successes and failures and learn to deal with them. First, we tried swimming, but because of Agata's health problems, we had to give up. Then it was tennis. Agata started, and then Iga tried to imitate her ambitiously
Sadly for Agatha Swiatek, a series of injuries forced her to quit tennis as well, luckily she followed in her mom's footsteps.
Iga Swiatek Boyfriend
As far as we know Iga Swiatek doesn't have a boyfriend or girlfriend at the moment.
Iga Swiatek Net Worth
As of June 2022 and according to records online Iga Swiatek has a net worth estimated at $10 million, that money figure could change significantly if she wins Roland Garros.
Iga Swiatek Endorsements and Earnings
Iga Swiatek has earned $ 8.9 million since turning pro in October 2016. In addition to her prize money, Iga has endorsement deals with Xiaomi, Nike, Red Bull, Lexus, Rolex and Tecnifibre racquets.
Iga Swiątek Trainer
Iga Swiatek's current trainer is Agnieszka Tadwanska's former trainer Tomasz Wiktorowski. Before Wiktorowski, Iga trained with Piotr Sierzputowski, their partnership started in January 2016 and ended in December 2021.
This change is really challenging for me, and this decision wasn't easy, either "I would like to thank you Coach for everything that you did for me. We gave each other so much and I hope that we'll continue to grow and develop with this experience we've gained together," Swiatek wrote. "I owe you a lot and truly appreciate the time we've spent together. All those years enabled us to be in the place that we are now."
For his part, Piotr posted on IG.
After more than 5 years, my cooperation with Iga ends. It's a very long time. It is natural in any job that changes are needed and usually are an opportunity. I am finishing this cooperation happy with those 5 years, during which Iga first gradually climbed up, and in the last two seasons she won not only the French Open, but also jumped to the top10.

There are many possibilities, I want to use the upcoming time to talk and decide what to do next. Thank you for this time to Iga and the whole team, as well as to those who appeared on this path. I wish Iga the best, good luck!