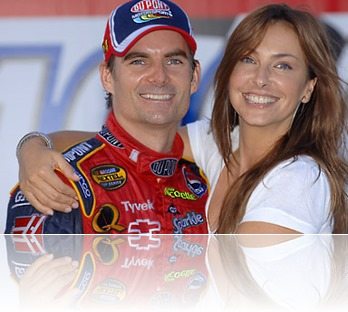 May we introduce to one of the sexiest NASCAR Wags you have ever seen, Ingrid Vandebosch Gordon, the pretty wife of Jeff Gordon is the Fabwag we are going to talk to you about!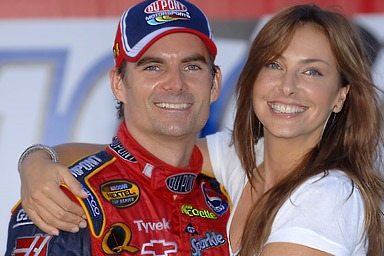 42-year-old NASCAR car racing driver Jeff Gordon  has been married twice, his first wife Brooke Sealey was just a college student as Ms. Winston when she met Gordon in 1992, they got married two years later but the happiness didn't last long and they headed to a nasty divorce from which she got out pretty wealthy.
On March 15, 2002 Brooke filed for divorced, she said  their marriage was irretrievably broken because of Jeff's marital misconduct, in the divorce papers she asked to be able to use their $9 Million beachfront Florida home, their jet plane (a falcon 500) two cars (Mercedes and a Porsche), plus alimony and that Jeff continued to pay for her housekeepers and personal chef. Jeff said she should be granted with that much, however she received $15.3 million. They had no children from their 8 year-marriage.
You might think 2002 was the worst year for Jeff but not really, a friend introduce him to the woman who would become his second wife.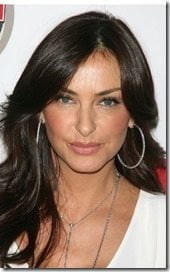 42-year-old Ingrid Vandebosch was born on November 8th, 1970  in Limburg, Belgium,  Ingrid a model met her soon-to-be hubby in 2002 and began dating two years later. They got engaged in 2006 and announced their engagement on June 24th, 2006.
5'9″ Ingrid Vandebosch became Ingrid Gordon on November 7th, 2006 during a private but very romantic ceremony in Mexico, Ingrid gave birth in New York to the couple first child a baby girl they named Ella Sofia on June 20, 2007.
Gordon announced on February 4th, 201- that Ingrid was expecting again, she gave birth to their adorable son Leo Benjamin on August 9th, 2010
Mrs. Vandebosch Gordon was 16 when she began her career as a model, she was represented by a small model agency in Netherlands until 1987 when she was discovered by a French agent who suggested Ingrid to relocate to Paris. She lived there for the next seven years and had the great experience to pose for the cover of Marie Claire magazine, Glamour, Elle and Vogue, she was also the spokesmodel for Christian Dior Perfume.
In 1994 Ingrid moved to New York and appeared in Stuff Magazine, was the face for Artistry cosmetics, L'oreal, Revlon and Cartier.
Once married to Jeff Gordon she made a cameo appearance in Jimmy Fallon's movie Taxi in 2004 and pose for the 2008 issue of the swimsuit edition od Sports Illustrated. She and her hubby create The Promise Circle, a fund of the Jeff Gordon Children's Foundation.
Follow Jeff Gordon's wife Ingrid Vandebosch on Twitter here and friend her on Facebook here.