The American professional Basketball player for the Denver Nuggets Kenneth Bernard "Manimal", recently has been related with Brazilian model Carol Seleme who in her Facebook Apparently she has a relationship with other guy, but he has her picture on his Twitter account.. still she is a pretty face and body to look at so why not check her out, right?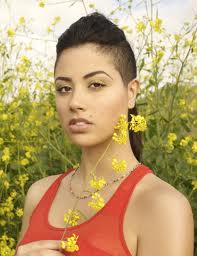 But lucky Kenneth if he is on a relationship with Carol Seleme because as we now:
Carol Seleme was born on August 20, 1990 in the beautiful city of Curitiba, Brazil where she studied at the International School of Curitiba then she moved to Los Angeles, California at age 18 to attend Otis College of Art and Design when she major in Fine Arts.
Seleme is a Brazilian, Lebanese and Italian descent.
She was raised in an artistic family, her mother being a pianist, and her sister an opera singer. Her father is a plastic surgeon. After a few music lessons, Carol chose to focus on visual arts. She moved to California to study at the Otis School of Design and found out she had a passion for photography which also led to the start of her modeling career.
She said:
"I believe I will never truly place myself within a category like "Painter", or "Sculptor". It's key to me, that all my pieces function as more than one medium, like painting that function as sculpture, or live performance that can also be viewed as video, or sculpture that functions as an interactive puzzle game, etc…"