Meet Jackie Tillman
Jackie Tillman is the lovely wife of NFL veteran player, Charles "Peanut" Tillman.
Her husband is a two-time Pro bowler. He spent most of his career with the Bears. In 2013 he received the 2013 NFL Man of the Year award.
In 2015 he ended his 12-year tenure with the Bears and greed to a one-year contract with the Panthers. Tillman was said to exited as one of the best defensive backs in team history. His deal with the Panthers is worth up to $3.05 million, ESPN reported.
According to the Chicago Tribune, his eight career interception returns for touchdowns are a franchise record. His 42 forced fumbles might be the most in Bears history. His 36 interceptions are third on the Bears' all-time list, behind Gary Fencik's 38 and Richie Petitbon's 37.
The last two seasons of Tillman's tenure were marred by knee and triceps injuries that sidelined him for 22 of 32 games.
But certainly Jackie Tillman, knows all about her hubby, she's been with him for decades.
Jackie Tillman certainly likes to stay fit and enjoys doing outdoor activities with her man. In 2014 the couple joined forces and hosted a 5K run/walk at Soldier Field.
Jackie Tillman and her hubby have known each other for most of their lives. They met while in the seventh-grade.
According to dnainfo, Jackie Tillman is the runner in the relationship. She has completed several half marathons and Ragnar Relay races of various distances, and one of her favorite places to run is along the lakefront path. She ran track in high school but started competing in distance races after her daughter, Tiana, received her heart transplant.
We really have no idea how the wife and mother of five makes the time. That's right Jackie Tillman and her husband are the proud parents of five-children. Jackie Tillman is the mom of three daughters, one son, and last year the family welcomed baby Tillman number five.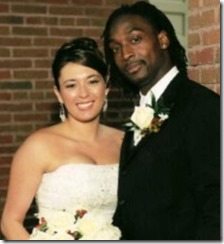 Her husband founded the Cornerstone Foundation after one of their daughters was diagnosed with cardiomyopathy. Jackie Tillman gave birth to daughter, Tiana in 2008. Their baby daughter had to received a heart transplant in order to live. She was 6-months-old at the time of the surgery.The couple later met the family who saved their daughter's life.
Jackie Tillman is listed in the Foundation's executive board as the Vice-President.