Meet Jacquelina Wonenberg
Jacquelina Wonenberg is the former girlfriend of Baylor football player Sam Ukwuachu –who's been accused of sexual assault in Waco and has been found guilty.
The football defensive end for the Baylor Bears could face from two to 20 years in prison, he is seeking probation. Reports say Sam has been convicted after sexually assaulting a former Baylor soccer player in 2013.
In court Thursday, Jacquelina, was called by prosecutors who described her as the ex-girlfriend at Boise State, she recounted being hit and punched by Ukwuachu, She told the jury she was allegedly punched in the head several times, choked and physically restrained from leaving by Ukwuachu at the time.
Ukwuachu denied he ever hurt her.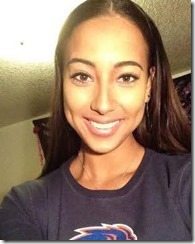 On Instagram she says about her "Happy healthy & ambitious Island girl" She also makes a reference to the Mariana Islands, dubbed the islands Islas de los Ladrones (Islands of the Thieves).
The exotic looking gal is a State Boise alum according to her media profiles. According to a 2008 article, Wonenberg is an athlete who attended Marianas High School and graduating in 2010.
In 2006 at age 14, she competed at the Oceania competition in Samoa and in 08' she competed in 20 events at the Micronesian Athletics Championships/Oceania Regional championships, saying at the time: "This is my home and I want to represent it with the best I can do. This year's competition is harder. I had only four events back then (2006), and now I have a lot"
She won the 2008 Micronesian Athletics Championships/Oceania Regional championships in the 100m, 400m hurdles, long jump, triple jump, 4x100m relay and 4x400m relay.
According to her FB profile, she is in fact from Saipan where was born and raised, her full name is Jacquelina Lorraine DeleonGuerrero Wonenberg. The now 23-year-old began attending Boise State University in 2011 where she belonged to the BSU track team, Javelin.
Her Boise profile, says during high school, she was a four-time NMASA female student Athlete of the year. In 2010 at the Guam Athletics Championships, she won the 100m hurdles, long jump, triple jump and placed second in the javelin. She also helped MHS win four state champion titles, also participated in cross country, soccer and basketball. Jacque also competed in the Australian Youth Olympics Festival, Micronesian Games and IAAF World Youth Championships.